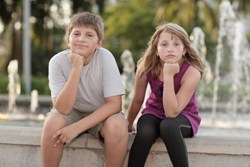 Students need to stay active and academically challenged in order to avoid summer learning loss.
Chicago, IL (PRWEB) July 30, 2013
Summer is a great time to be a student - more free time and less stress allow you to clear your head, establish goals and explore new interests. However, some students find it difficult to stay motivated with a less structured schedule and fall victim to learning loss over the summer months.
WyzAnt.com, the largest tutoring marketplace on the web, recently polled over 300 private tutors nationwide, asking for tips to help keep students' brains active this summer. The following suggestions will help students make the most of their summer vacations and hit the ground running this fall when school is back in session.
7) Stay on schedule. Some students have a hard time adjusting to an "open" schedule after a school year jam-packed with homework and extracurricular activities. To stay motivated and productive this summer, Shara M. from Jupiter, Florida, recommends that students, "create a schedule that may involve things as simple as feeding pets, jogging, playing basketball, reading a challenging book, or researching topics of interest." Shara also suggests that students practice getting up early a few weeks before the school year begins to help their bodies readjust to the school schedule."
6) There may be no free lunch, but there are free events! Think museums are just for field trips during the school year or that you've outgrown the zoo? Think again! "Museums are awesome in the summer, since they offer new programs for students and there is always something new to learn, see and experience. Many museums have special promotions offering free admission," says Carol S. from Hollister, Massachusetts.
5) Build vocabulary on the fly. Whether you're reading or engaged in conversation, you encounter new words every day. Sheila R. from Killeen, Texas, suggests that students "create and maintain a vocabulary list of new words encountered during everyday activities. Use a dictionary or Internet search to learn the definition of new words and review your vocabulary list every day. Choose one word each day and try to use it at least three times in conversation. You can even try downloading a vocabulary app for your smartphone!"
4) Read all about it. Where are you going on vacation? What is the history of the activity you are planning to do this weekend? Maria H. from Austin, Texas, suggests doing a little digging as you tackle your bucket list this summer. "Be curious and ask yourself questions, then find out the answers! You'll learn a lot more by researching topics you find interesting such as: What is the rarest species in Yellowstone National Park? The more learning you can do in a real life context, the more information will stick."
3) Become an author. "Writing your own story, blog, or poem, can be exhilarating. Watch people around you, listen to conversations, or just take in nature, and you've got some pretty good material to work with. When complete, you can share your work with your family and friends, and experience how it feels to be an author," says Angela P. from Lee, New Hampshire. If you're trying to become a better storyteller, look for inspiration from existing stories. "After watching a movie, write about your favorite part. Then, identify a part that you disliked and write an alternative storyline. This will get you thinking critically and creatively," recommends Julie S. from San Jose, California.
2) Be proactive for your future. Summer is a great opportunity to take a step back and look at your interests and goals from a broader perspective. Take some time to consider what career you'd like to pursue or what short-term and long-term goals you'd like to achieve. Tap into connections from your friends and family to interview people within an industry you would like to learn more about. If you don't have any connections, don't give up! Many business professionals are open to having a conversation with motivated students who take the initiative to think about their futures.
1) Teach yourself a new skill. Not only will you expand your knowledge base, but "you will also engage the skills necessary to become a researcher and self-motivator. It may seem more difficult than having someone else teach or explain it to you, but in the end, the accomplishment of teaching yourself will be far more rewarding. You will also retain the information for a much longer period of time. Once you learn your new skill or topic, teach someone else. This is the true test as to whether or not you have really mastered something!" advises Shara M. from Jupiter, Florida.
About WyzAnt.com: WyzAnt.com is the largest marketplace for tutors and students, offering an easy-to-use and secure environment designed to foster learning through one-on-one instruction. WyzAnt's dedication to industry leading customer service has earned it an "A+" rating with the Better Business Bureau. To learn more, Find WyzAnt on Facebook.