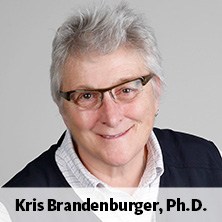 It was a complete surprise and I find myself both personally proud and proud for Sofia to be so recognized. It's a wonderful moment in my life," said Brandenburger.
Palo Alto, CA (PRWEB) July 31, 2013
The International Association of University Presidents (IAUP), recently honored Sofia University Professor Dr. Kris Brandenburger, with the International Education Faculty Achievement Award. Each year, IAUP recognizes faculty members who make significant contributions in curriculum development for world citizenship and who prepare students for successful careers in our global economy.
"As a global organization of university presidents, IAUP recognizes the increasingly essential need for universities around the world and across cultures to prepare students for the complex and interdependent global society they will inhabit," said Sofia University and IAUP President Dr. Neal King. "I am delighted that one of our own is being honored for her pioneering work in this regard."
The award was given in recognition of her contributions to the "Global Citizen" components of the new Sofia University undergraduate curriculum. When asked about the specifics behind the "Global Citizen" curriculum she replied, "We are actively asking each student in our program to think into what it means to be a citizen, what are the opportunities and responsibilities of being a citizen at this time. We ask them to engage this question spiritually, socially, ethically, politically, intellectually and ecologically--and we hope that the inquiry leads to more ways of understanding citizenship for us all."
Kris Brandenburger is an Executive Core Faculty Member and Chair of the School of Undergraduate Studies. She holds a Ph.D. in Humanities from the California Institute of Integral Studies and a B.A. in Integral Studies, California Institute of Integral Studies.
For more information about IAUP, please visit: http://www.iaup.org.
About Sofia University
Founded in 1975, Sofia University (formerly the Institute of Transpersonal Psychology) is a private, non-sectarian university accredited by the Western Association of Schools and Colleges. For over 35 years, within the context of scholarship and research, the school has offered transformative education for the whole person, probing the mind, body, spirit connection. As Sofia University, the school is broadening its mission, reaching into multiple disciplines and adding undergraduate study. For more information, visit http://www.sofia.edu.