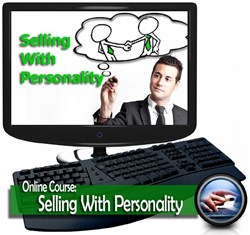 Boardman, Ohio (PRWEB) July 30, 2013
PeopleKeys, an internationally-recognized leader in the field of behavioral analysis, today announced a new addition to their popular catalog of DISC training courses: Selling with Personality.
Selling with Personality was created in response to the overwhelmingly positive reaction from PeopleKeys live DISC sales training seminars. PeopleKeys wanted to make their decades of experience with personality-based sales techniques available to a wider audience, so they developed an online course specifically designed for sales and customer service representatives. The course is based on field-tested sales techniques that link the way customers approach buying to their innate personality style.
The concept behind Selling with Personality comes from DISC theories of human behavior. DISC is a method that can be used to accurately predict how someone will act or react in a given environment. DISC identifies four types of people: dominant (D), influencing (I), stable (S), and compliant (C). Understanding the traits that come along with each personality style allows you to predict how someone will respond in a given environment. These four personality types can also be seen as "customer styles," each with very different sales triggers.
Also foundational to the course is the idea that sellers, too, sell with an instinctive style. This instinctive style, however, may or may not be a good match for the customer. Selling with Personality shows participants how to identify each customer's personality type, how to recognize and anticipate the needs of that customer, and how to adapt to meet the preferred buying style of the customer.
Part one Selling with Personality presents an overview of DISC theory, giving participants a foundation in the core principals of DISC personality assessment. Part two of the course explores the ways in which personality is tied to sales and selling, offering helpful techniques for improving your profit picture by closing in the right way.
Being able to adapt sales techniques to best mesh with the customer's personality-based needs, interests, and fears is the key, PeopleKeys said, to strong sales. The goal of Selling with Personality is to improve interactions with clients and ultimately close more deals.
For more information on PeopleKeys, Selling with Personality, or any product in the PeopleKeys DISC catalog, please contact marketing Manager Kaitlyn Miller at: 330-599-5580 x 113.
About PeopleKeys
PeopleKeys has been providing tools to measure the connection between human behavior and personality for over 30 years. PeopleKeys believes that an understanding of human behavior can be used to improve relationships, streamline productivity, resolve conflict, reduce stress, and boost sales. For more information about PeopleKeys and their DISC solutions, please visit their online store at DISCinsights.com.
###