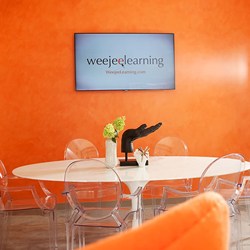 We've had some great opportunities to understand the specific needs of these organizations, and this is our way of saying thanks.
Durham, NC (PRWEB) July 30, 2013
Weejee Learning, a global provider of custom, interactive and fun enterprise-wide e-learning solutions, has expanded its services to include a dedicated approach to helping associations and nonprofits with online learning programs and strategy. The company has realized significant growth through its work with associations and non-profits and is offering a 10% discount for services as a way of giving back.
"We work with leading associations, NGOs and non-profits to craft and convey messages and information to a variety of audiences," says Ian Huckabee, CEO of Weejee. "We've had some great opportunities to understand the specific needs of these organizations, and this is our way of saying thanks." From professional development for members and non-members, to training for staff and volunteers, to education around advocacy and issues, Weejee works with organizations to create custom, fun e-learning solutions that further their mission and, in many cases, offer additional revenue sources.
Weejee's new service area helps further position Weejee as a leading provider of custom and innovative e-learning content. The company is nearing its three-year anniversary and has found success differentiating itself from competitors based on its unique brand of fun and engaging learning, which helps to make intimidating, perplexing information easier to comprehend. Weejee's work with associations and non-profits includes award-winning solutions.
Huckabee continued, "As Weejee continues our growth plan, we've identified several areas where we can specialize and differentiate ourselves, and stay ahead in terms of innovation and service offerings. We've established a really strong team that understands the unique qualities of working within associations and non-profits, and we're proud of what we've been able to accomplish."
Weejee's services include custom digital solutions, curriculum and learning needs analyses, program design, social learning strategy, and instructional design and development. To learn more about Weejee and the special offer for associations and nonprofits, visit weejee.com/non-profit-offer.
About Weejee Learning
WeejeeLearning, LLC is a Durham, N.C.-based custom learning design and development company providing enterprise-wide e-learning solutions to corporations, NGOs, associations and nonprofits. Weejee focuses on making learning fun and more effective by combining the latest technologies and techniques with a high degree of creativity. Weejee optimizes the success of learning and training programs through highly interactive e-learning, instructional design, mobile learning and strategies for social learning and collaboration.