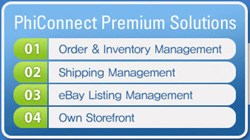 Our clients said that they saved more than 30% of time and labor and increased their sales after switching to PhiConnect.
Los Angeles, CA (PRWEB) July 30, 2013
PhiConnect.com, a leading IT company, has introduced software tools for helping online retailers in the Los Angeles and Orange County, California area. It has recently completed the customization of front- and back-end software for an all-in-one solution. Local online retailers can now centralize their web store, inventory management, order processing, shipping management, and warehouse management strategies.
For those using the respective selling platforms, the company offers customization of eBay and Amazon management. The company's web service is able to synchronize multi-channel inventory stock in real-time. It can do so across all sales channels, including Amazon, eBay, Buy.com, and others. The service provides sellers with access to many features and the ability to easily track all stages of the process.
Shipping management is another aspect of the service. PhiConnect can also help local online sellers via UPS and U.S. Postal Service label printing options. Customers can save with an up to 20% discount in postage. In addition, just one software product is required to complete the day's work from start to finish.
The company has worked with numerous major Internet retailers, including atticonlineshop.com, GoGoKicks.com, and MillionBuy.com. Its solutions include complete storefronts, supported by a website, accounting tools, and other essentials. Tools for managing eBay listings, and those for order processing, inventory management, and more are also provided.
"Our clients said that they saved more than 30% of time and labor and increased their sales after switching to PhiConnect," said Daniel Kim, Project Manager. "We will do our best to keep it up."
PhiConnect, in addition to these valuable tools, offers domain hosting, an eBay and Amazon Search Engine, free consultations, and a free trial of its software. Full customer support and reporting are also available. To find out more about the localized and essential e-commerce services of PhiConnect, visit the company's website at http://www.phiconnect.com/.
About PhiConnect.com
Developed with 10 years of e-commerce selling experience, PhiConnect provides tools for building a complete e-commerce website to local customers in Los Angeles and Orange County. Its solutions are tailored for anyone with a web store on eBay or Amazon. Created by an eBay Titanium PowerSeller, the company provides software for inventory control, order processing, website development, and shipping management and more.