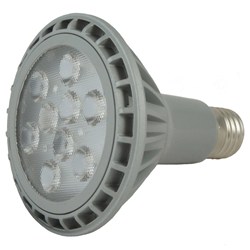 Los Angeles, CA (PRWEB) July 31, 2013
The popular Nova Line of energy efficient, low-cost, LED lights from WholesaleLED.com has received UL approval, making them an even more appealing choice for consumers and businesses.
This UL certification means that the product has undergone a series of quality tests by the independent safety-science company, Underwriters Laboratory. This allows the lights to qualify for rebates from utility companies in many states.
"This stamp of approval from UL is confirmation of what we LED customers already know," Says Ernesto Maldonado. "That WholesaleLED.com offers an extremely high quality product at a very low price."
Maldonado said that the UL approval for the Nova Series PAR20, PAR30 and PAR38 LED lights from WholesaleLED.com will not increase the price of the bulb, something that many other companies do once a products get approval.
The product line includes a powerful 11-watt PAR30 LED light with more than 800 lumens of light, enough to replace a 60-watt halogen bulb. The PAR30 also comes in both warm white and natural white color temperatures, allowing it to brighten up a diverse number of locations. The Nova series includes a complete line of LED bulbs for as low as $10.95, depending on the type of bulb and quantity.
The entire Nova Series of LED PAR lamps are available for purchase on http://www.WholesaleLED.com.