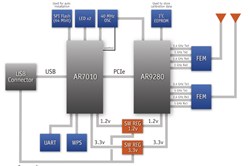 Richardson, TX (PRWEB) July 31, 2013
Intelligraphics' Engineering Team today announced the addition of the first WEC7 802.11n USB Wi-Fi Driver Suite for Qualcomm Atheros' AR7010, AR9271, AR9280 XSPAN®, and AR9287 Align® Chipsets to their IGX Family Software Product Line. The IGXSevenDotO WEC7 USB Wi-Fi Driver offers a Real Time Operating System designed to target enterprise specific tools like industrial controllers, consumer electronic devices including GPS Systems. Digital Cameras and some Automotive Infotainment Devices as well as custom embedded systems. Intel x86 architectures are supported.
Qualcomm Atheros XSPAN® technology offers enhanced performance, higher integration, smaller form factors at lower overall cost and easily the needs of the 802.11n marketplace.
Qualcomm Atheros AR9271 using Align® technology is a single-chip USB solution that provides enhanced Wi-Fi performance and value for home gateways, set-top boxes, gaming consoles, printers and other embedded wireless products. It can also be integrated into wireless USB adapters for notebooks and desk- tops, low-cost performance upgrades on legacy PCs.
The IGX SevenDotO WEC7 USB Driver Suite supports the following USB Wi-Fi Adaptors:
*AzureWave AW NU138
*AzureWave AW NU150
*DLink DWA 126
*Philips WUB1110
*Netgear WNA1100
*Netgear WNDA3200
*Panasonic N5HBZ0000055
*SMC SMCWUSBS N4
*Sony UWA BR100
*TP LINK TL WN821N v3
*TP LINK TL WN721N
*TP LINK TL WN722N
*TP LINK TL WN322G v3
*TP LINK TL WN422G v2
*Unex DNUA 93F
"Over 15 years of WI-FI experience in PC and embedded driver development, and a solid partnership with Qualcomm Atheros enable us to offer these new products to our customers. Any USB Wi-Fi Adaptor they choose paired with the IGX SevenDotO Driver Suite will provide the best performance, power consumption with the lowest cost," said Intelligraphics' president Scott Lawson. "We are proud to be the first Qualcomm Atheros Design Center to offer a WEC7 driver for these popular chipsets."
Recognized as an industry leader for over 20 years, Intelligraphics' engineering team provides a variety of expert hardware development, driver and firmware development and system integration services to a worldwide customer base. Intelligraphics offers significant expertise in a variety of real-time operating systems and hardware technologies. Specialties include USB, Audio, 2D and 3D Graphics, and WI-FI driver development. Intelligraphics is a Microsoft Certification Test Facility and has offices in Richardson TX and Bangalore India.