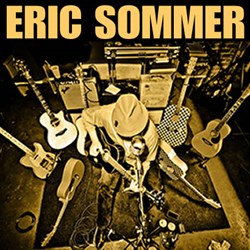 "Eric Sommer... American Guitar Super Hero" James Tarpley, Arkansas Times
La Crosse, WI (PRWEB) July 31, 2013
Eric Sommer might have a hard time finding Minneapolis.
Hit Rt. 61 North from LaCrosse, WI, take a left into Minnesota. Follow the signs.
It's been five years at least since Mr. Sommer was in the Land of Lakes, and while things change slowly in the Great North, things have changed pretty fast for Eric Sommer in the past two years.
With a new record, over 1,000 shows under his belt and 500,000 miles on the Chevy Blazer, Eric Sommer has, by all accounts, got the singer songwriter medium down. Down pat, as they say.
Recent shows have included stops in Philadelphia at World Cafe Live, Jolly's in University City, Bus Stop Music Cafe in New Jersey, 4w5 in Wilmington, Delaware and The Dunes in Washington, DC. But Eric Sommer started - or re-started - here in The West Bank at the old Viking Bar. He knew Spider John Koerner from seeing him at The Plough and Stars in Cambridge, MA, and his cousins encouraged him to get on The Bayfront Blues Festival.
More shows with increasingly larger audiences seem to be the norm now for Mr. Sommer. Where he once played to a few curious folks he now commands significantly larger audiences and his schedule regularly includes a list of top rooms across the nation. They include theatres, parking lots, out of the way cafes and beer joints and the occasional honky tonk -- like Toot's Lil' Honky Tonk in Johnson City, TN.
A few days ago Eric was in Madison, Wisconsin for the Atwood Music Festival. The Festival is a 30 year old celebration of the local music scene in Madison and featured Eric Sommer on the Max Ink Stage on Sunday. The Festival is run by The Goodman Center and managed and coordinated by Mr. Rokker from Maximum Ink, the most widely read music publication in the Northland.
This local-focused Festival builds on the local music scene and supports a remarkable array of local foods, produce and beverages as well as a fairly aggressive political approach - all issues are open for discussion.
One of the noticeable standouts in any Eric Sommer show is the on-the-fly improvisational approach to many of the breaks, solo sections and dramatic lulls in an "audio-wash, wall-of-sound" presentation.
And what's a bit remarkable is that all this sound comes from six small stage amps.
Eric started his musical career in the Boston area and has been a regular player on many national tours and showcases. He worked in Europe for two years on Danish, German and British rock stages, returned to Boston and formed The Atomics, a cult power-pop band in South Boston. His influences are as diverse as Townes Van Zandt, Steve Earle, Steve Howe and The Ramones. Mr. Sommer's current project with power trio "The Solar Flares" shake up Chet Atkins and David Bromberg influences with those of Randy Travis and Elvis Costello - a remarkable mix.
With open tunings, slide guitar, lap-slap tone guitar and a remarkably aggressive fingering style approach, watching Eric Sommer will make you jump out of your seat and holler for joy! There are very few players who have maintained this authentic American style of guitar and Eric Sommer is one of the very best.
Amen.
____________________________________________________________________________
For Music Samples please visit Eric Sommer online for additional schedules or contact him at eric(at)ericsommer(dot)com or call 202-255-1995. Additionally, you can find Eric Sommer on Facebook at ericsommermusic and FB@itsericsommer. RAINY DAY KARMA is also available on iTunes and CDBaby.
Eric Sommer is represented by Clyde is Thinking, and PR programs are managed thru MTG/NY; For more information, promo/appearance requests or to set up an interview, please contact Tom Monihan 202-255-1995.