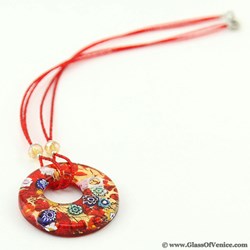 Murano Glass is centuries-old, and while it is amazing to have all that history, it also shows the need for reinvention and infusion of fresh design ideas to keep this art popular and relevant in the 21st century
Glen Rock, NJ (PRWEB) July 30, 2013
GlassOfVenice.com, specialists in import and distribution of authentic Murano Glass, are proud to present new summer collection of Murano Glass jewelry straight from Venice, Italy. Colorful, elegant, trendy, and unique, Venetian Glass earrings, rings, necklaces and bracelets accentuate summer outfits with Venetian sparkle and class without breaking the wallet.
Venice has always been an enchanted destination, drawing big crowds from all over the world. Along with beautiful architecture, reflections in canals and gliding gondolas, Murano Glass is a visual delight that never fails to attract tourists. However, unlike the unique features of Venice that one can only admire when visiting, Murano Glass is a little piece of Venice that tourists can actually take home with them. And after that first encounter the attraction of Murano Glass just grows as its beauty becomes even more apparent without the rich Venetian backdrop.
Understanding the wider appeal of Murano Glass outside of Venice, GlassOfVenice has been working with select group of Murano glassmakers for several years to bring the best in authentic Murano Glass to its discerning customers worldwide. Along with perennial customer favorites in classic forms and elaborate decorative techniques, the company offers new styles and collections keeping step with the changing times, tastes and trends. The new summer collection from GlassOfVenice does just that, presenting a fresh perspective on many classic Murano Glass jewelry designs, offering lighter pieces, simpler forms, and a playful mix of colors in pieces destined to become instant customer hits.
"Murano Glass is centuries-old, and while it is amazing to have all that history, it also shows the need for reinvention and infusion of fresh design ideas to keep this art popular and relevant in the 21st century", says the Company's spokesman. "This is something all of Murano is struggling with right now, since the artisans are so set in their ways. By working closely with the artisans, many of whom we know personally for years, we are able to influence the creative process and bring out the best that Murano Glass history and tradition have to offer."
GlassOfVenice's new summer collection includes bracelets, earrings, rings, pendants, and pendant necklaces in a variety of forms and colors. Genuine gold and silver foils, sparkles, and Millefiori pieces infused in glass create one-of-a-kind look of Venetian elegance and inimitable Italian style sought after by women all over the world.
About GlassOfVenice
GlassOfVenice is a U.S.-based company focusing solely on direct import and worldwide distribution of authentic Murano Glass. The company was founded by visionary businessmen with passion for Italy and Venice and appreciation of Venetian artistic heritage, which today can be best seen in its famous Murano Glass. GlassOfVenice imports all its products directly from Venice and offers the full range of Murano Glass produced by the Island's artisans from jewelry and accessories to tableware and home décor, including vases, sculptures, and chandeliers. The products can be purchased on the company's full-featured and user-friendly website http://www.GlassOfVenice.com. Paypal and all major credit cards are accepted and worldwide shipping is available from the U.S.-based warehouse.