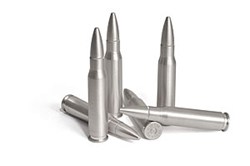 The success of the silver bullets proves they aren't just for slaying werewolves anymore.
Federal Way, Washington (PRWEB) July 30, 2013
Northwest Territorial Mint has produced five metric tons of Silver Bullet Bullion™, equal to more than 160,753 Troy ounces, the fastest growth of any product since its introduction of its 1 Troy ounce Stagecoach Divisible Silver Bars. This growth is tied to a dramatic increase in demand for silver as a stable investment asset, and the exceptionally high quality of the bullets themselves.
In fact, these Silver Bullets would make even the Lone Ranger proud. Five metric tons of silver fashioned into the Ranger's trademark silver bullets would keep the iconic lawman well-stocked for over 130 years. That's a lot of justice dispensed.
While these bullion silver bullets are exact replica of the most well-known ammunition in the world, each "round," while not real ammunition – sorry, Tonto – is pure investment-grade .999-fine silver. Silver Bullet Bullion currently available for purchase are:

1 Troy ounce .45 caliber pistol round
2 Troy ounce .308 rifle round
10 Troy ounce .50 caliber machine gun round
25 Troy ounce 20mm cannon round
Completely unique to Northwest Territorial Mint, these silver bullets represent a new direction for an industry that typically focuses on selling silver in simple coins or bars. Created by Northwest Territorial Mint's skilled artists, Silver Bullet Bullion is the perfect marriage between artistic beauty and technical perfection. "I saw a common thread among our customers, and there was a natural fit between those who ardently support the Second Amendment and those who prefer to hedge their portfolios with silver," says CEO, Ross Hansen.
The success of the silver bullets proves they aren't just for slaying werewolves anymore and just might be the ultimate survival investment. Silver is a timeless asset that has always had purchasing power, so it is no surprise that during these uncertain economic times we turn to a traditional asset, in sizes perfect for barter during a possible financial meltdown.
However, Silver Bullet Bullion has proved to be more than just a great investment, it's a powerful way to say what can't be said in mere words. Silver Bullet Bullion has been purchased for everything from wedding gifts to graduation gifts to honoring the family of fallen soldiers. These bullets are not only a responsible fiscal investment but are also a keepsake that will be treasured for years to come.
Each round of silver ammo is manufactured in Dayton, Nevada under high security and is uniquely hallmarked with exact weight and purity. You can learn more about the Silver Bullet Bullion and see exactly how it is made by going to http://silverbulletbullion.com.
About Northwest Territorial Mint:
Since 1984, Northwest Territorial Mint has specialized in designing and creating custom coins, medallions, and related items of the highest craftsmanship for individuals and institutions worldwide. As a major dealer in precious metal bullion products in the U.S. and Canada, Northwest Territorial Mint is internationally recognized and well-established in both wholesale and retail supply of silver, gold, palladium and platinum precious metal bullion.
Northwest Territorial Mint also sells investment-grade rare coins and builds portfolios for investors who wish to add bullion and rare coins to their assets. The company is the exclusive mint of Pan American Silver Corp. silver bullion, as well as Northwest Territorial Mint branded silver bullion, Stagecoach "divisible" silver bullion, and the company's newest bullion product, Silver Bullet Bullion™, real silver shaped like America's favorite ammunition.
Northwest Territorial Mint has facilities located in Dayton, NV; Federal Way, WA; Auburn, WA; Green Bay, WI; Tomball, TX; Alexandria, VA; and the Pentagon.
For more information about Northwest Territorial Mint, visit http://www.NWTMint.com/.
For high-resolution images of other silver bullets, please email pressrequest(at)nwtmint(dot)com for additional high resolution images . Let us know if you would like an image of the .45 round, the .50 caliber, the 20mm cannon round, or one of all of them together.
Images must be used with the following attribution: Silver Bullet Bullion™ Image Courtesy Northwest Territorial Mint © 2013