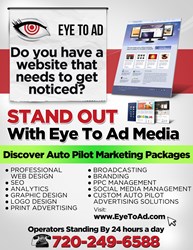 Simplified advertising packages!
Denver, CO (PRWEB) July 30, 2013
A Denver SEO agency, Eye To Ad Media announces simplified marketing packages. These incredible bundled suites include branding, professional logo design, graphics design, web design, search engine optimization, link building and a variety of other strategic business development services.
With the simplified marketing packages, the company now makes it possible for business owners to select a monthly budget and specific advertising objectives that need to be accomplished. The services can be customized according to specific demographics, keywords and specifications.
In addition, several of the marketing suites combine multiple forms of media into one monthly budget. Businesses can promote their company by internet advertising, print media or even national broadcasting. The company provides a host of video production services that utilize professional actors and voice over professionals as well.
Advertising a business is arguably one of the most critical components to running a successful organization. Image is everything. Having a cutting edge logo design that's in tune with the target audience can sometimes mean the difference between being a mediocre company and being a great company. Likewise, organizations with witty slogans or memorable jingles can sometimes bridge the gap between being an average brand or an internationally recognized brand.
According to the company, customers will have the option to select specific marketing objectives without the headache of managing numerous technologies or dealing with several advertising SEO firms. One monthly subscription that cuts many of the hassles out of promoting a business.
Search engine optimization is probably one of the more common phrases when it comes to the internet. SEO has many potential benefits for business owners who would like to promote their brand online, however one of the notable attractions is its ability to bring searching consumers to the specific item they are seeking. Almost all industries have a group of specific keywords that their target demographic is searching for online.
This exceptional creative firm works with clients to establish a proactive plans that are affordable for most small to large businesses. Their experts will assist clients in aligning their marketing objectives with the greatest potential impact. Business owners are invited to take advantage of the non-obligatory initial consultation offered to learn more about the services provided and the simplified marketing packages.
Contact Information:
Zach Wennstedt
720-249-6588
info(at)EyeToAd(dot)com
http://www.eyetoad.com