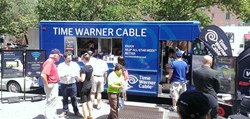 East Brunswick, NJ (PRWEB) July 30, 2013
The latest promotional food truck campaign to leave Vending Trucks, Inc. included six vehicles to be utilized on the streets of New York City. Time Warner Cable, the official sponsor of Major League Baseball at the All-Star Kick Off, turned to a marketing agency for the advertising needs required for a successful promotional event. The agency then partnered with food truck experts, Vending Trucks, Inc. to custom design, fabricate, and staff the six food trucks needed for this week long event in New York City. Time Warner Cable used the six food trucks to dish out regional delicacies from different baseball stadiums around the country and get people excited about the upcoming all star game.
This street marketing tactic, aimed to attract an audience of all ages to the vending trucks worked to say the least. Since the rise in the food truck industry many companies have found that using vending trucks to launch their own street campaigns is much easier and more successful than traditional marketing styles. Street marketing and the use of vending trucks allows businesses to attract and interact directly with its target audience.
Corporate promotional vehicle rentals have become a target for marketing and advertising agencies nationwide seeking a product sampling solution with custom designed trucks by providing design options like custom vinyl wrapping and custom fabrication. These food truck rentals can range from a daily to yearly basis, and is ideal for companies who are looking to promote their brand or products at events. It is no wonder why Vending Trucks, Inc. has fully customized food trucks, concession trailers, and mobile kitchens for clients ranging from individual entrepreneurs, small businesses, and Fortune 500 Companies.
While it seems like custom designing, renting, or purchasing a vending truck may be an overwhelming task to undertake, Vending Trucks, Inc. can assure you it is easier than most think. With more than 20 years hand on experience, Vending Trucks, Inc. and its employees have mastered how to successfully execute product promotions and consumer interactions for experiential marketing events. Vending Truck, Inc. is ready to help you make your mark on the food truck industry.