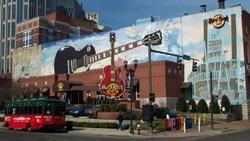 San Francisco, CA (PRWEB) July 30, 2013
The International Tour Management Institute (ITMI), America's premier training and certification program for professional tour directors and guides, announces that the Hard Rock Cafe Nashville, will sponsor the gala closing night event at its annual Symposium to be held January 26th – 30th in Nashville.
For the past 27 years, the ITMI Symposium has attracted industry professionals from around the world. It is the only travel industry conference that brings together tour directors and guides, domestic and international tour operators, event planners, destination marketing organizations, travel writers and other industry stakeholders for interactive seminars and networking.
"The Hard Rock Cafe is a cultural icon known virtually around the world for its all-American burgers and its legendary music industry theme. We are extremely proud that the Hard Rock Cafe Nashville, located in the heart of 'Music City,' will be hosting what promises to be an exciting and memorable closing night celebration for ITMI Symposium attendees," states Ted Bravos, CEO of ITMI.
"We are excited to sponsor the ITMI Symposium's closing night gala celebration," said Don Morris, General Manager at Hard Rock Cafe Nashville. "Hosting an event of this magnitude is a great opportunity to showcase the world-famous Hard Rock brand to key tourism industry professionals from around the world."
The ITMI Symposium attracts leading tour operators such as Smithsonian Student Travel, Destination America, Adventures by Disney, Tauck World Discovery, Globus Family of Brands, Cosmos, Collette Vacations, Princess and Holland America Cruise lines to name but a few. Group Tour Media's editorial team will also be covering the event and delivering follow-up articles in its family of print and online publications.
About ITMI:
Since 1976, ITMI has been America's premier training and certification program for professional tour directors, guides and travel staff. For more information about ITMI or the Symposium, contact Annemarie Osborne Annemarie.Osborne(at)gmail(dot)com (800) 442-4864 (415) 957-9489 or visit http://www.itmisf.com.
About Hard Rock International:
With a total of 174 venues in 54 countries, including 138 cafes, 17 hotels and 7 casinos, Hard Rock International (HRI) is one of the most globally recognized companies. Beginning with an Eric Clapton guitar, Hard Rock owns the world's greatest collection of music memorabilia, which is displayed at its locations around the globe. Hard Rock is also known for its collectible fashion and music-related merchandise, Hard Rock Live performance venues and an award-winning website. HRI owns the global trademark for all Hard Rock brands. The company owns, operates and franchises Cafes in iconic cities including London, New York, San Francisco, Sydney and Dubai. HRI also owns, licenses and/or manages hotel/casino properties worldwide. Destinations include the company's two most successful Hotel and Casino properties in Tampa and Hollywood, Fl., both owned and operated by HRI parent company The Seminole Tribe of Florida., as well as other exciting locations including Bali, Biloxi, Chicago, Cancun, Las Vegas, San Diego and Singapore. Upcoming new Hard Rock Cafe locations include San José, Chennai, Istanbul and Tenerife. New Hard Rock Hotel projects include Daytona Beach, Palm Springs, Aruba, Riviera Maya, Abu Dhabi and Shenzhen and Haikou in China. New Hard Rock Casino projects in development include Hungary and Northfield, OH. For more information on Hard Rock International, visit http://www.hardrock.com. Or contact Rachel Smith, Hard Rock Cafe Nashville, 615-742-9900, Rachal_Smith(at)hardrock(dot)com.
# # #