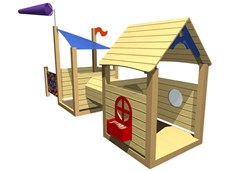 The feedback from the winning schools has been really positive and the shade that the play structures provide helps to re-enforce the message of sun safety
Bolton, Lancashire (PRWEB) July 30, 2013
210 UK schools and nurseries took part and designed T-shirts promoting sun safety messages.
The Sun Sensible scheme run by SunSense is designed to make children in schools aware of the importance of staying safe whilst playing in the sun.
The judging panel included members from Daisy Chains (school sun awareness campaigners from Hull), The British Dermatological Nursing Group and School & Public Health Nurses Association.
Karen Kennedy, Marketing Manager at SunSense commented, "We searched hard for a suitable company who could provide an innovative range of playground shelters and other play equipment that provided shade. We were delighted to commission Playground Imagineering as they are most definitely experts in school playground equipment."
"Playground Imagineering design and build a superb range of school playground shelters as well as other pieces which offer children shade, they were more than happy to work with us to make sure the competition prizes met the deadlines that suited our launch," Karen added.
The prizes were awarded to three age groups including Early Years, KS1 and KS2.
The winners included:
Early Years (4yrs to 5yrs)
Ismaeel Ali from Shipley CE Primary School, Bradford, Yorkshire.
The school won a sand box with a pergola, SunSense sunscreen for every class and their winning design featured on t-shirts for the whole school.
Their simple design featured a hand painted smiling sun in bright red and yellow.
Their prize of a pergola sandbox has a 95% UV resistant mesh roof which provides protection to children playing in the sandpit below.
The play structure was made using a quality treated timber frame and bench seat and also includes durable HDPE plastic seats.
KS1 (5 to 7 years)
Thomas Camp from Covingham Park Primary School, Swindon, Wiltshire won a wooden playhouse, SunSense sunscreen for every class, UV wristbands (showing when sun damage could occur) and their design printed on to T-shirts for every child.
Thomas's winning T-shirt design featured an orange dinosaur in a sunny setting.
The play structure has a shade sail forming the roof on one playhouse and a conventional pitched roof on the other which is linked by a tunnel.
As well as a quality treated timber frame, roof and wall panels the structure has additional features including:
Durable HDPE plastic window box, flag and bubble windows.
Commercial specification fabric shade sail
Sand pit base in one playhouse
Colourful windsock
KS2 (7 to 11years)
Hannah Galey from Buxton Primary School, Norwich, Norfolk won a covered seating area, SunSense sunscreen for every class, UV wristbands and their design made into T-shirts for each child at Buxton Primary.
Their clever design featured a penguin including the tag line 'Keep cool in school'.
The covered seating area includes a Pergola and planters which are designed to provide opportunities for social interaction and more reflective play. The area protects children from direct sunlight with a 95% UV resistant roof mesh.
The five runners up included children from the following schools:
Wrea Green Pre School, Preston, Lancashire.
Winchcombe Abbey C of E Primary School, Cheltenham, Gloucestershire.
St Wilfrid's RC Primary School
Evelyn C.P. School, Prescot, Merseyside.
Benthal Primary School, Hackney, London.
Each runner up won a buddy bus (a shaded friendship seat) SunSense sunscreen for every class and UV wristbands for each child.
John Hughes, Director of the Bolton based playground designers said, "I'm very happy to be associated with such an important message, increasing awareness of the risks of over exposure to UV solar radiation is very important. Playground furniture for schools that allows children to gain the educational benefits of playing and learning outdoors, whilst protecting them from the potentially harmful effects of UV radiation has to be the way forward."
According to Cancer Research UK, UVA and UVB are the two types of solar radiation which reach us on Earth. Both types are linked to skin cancer.
John Hughes, Director of Playground Imagineering, continued, "We will continue to look at innovative ways of providing school playground equipment that facilitates learning in an outdoor environment whilst being mindful of the potential risks. The equipment that we produce is designed with all these factors taken into consideration."
Karen Kennedy said, "The feedback from the winning schools has been really positive and the shade that the play structures provide helps to re-enforce the message of sun safety".
Sunsense provide resources for schools who want to make sure their children stay safe in the sun. To download the resources or for more information visit their website http://www.sunsense.co.uk/.