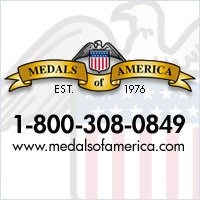 Greenville, SC (PRWEB) July 31, 2013
Medals of America recently released several great new military iPad cases for both protection and style. The designs are appealing and honoring to Veterans and current servicemen and woman alike. They are a great way to show pride in the services given by Veterans in various campaigns and wars. There are many different choices for the military iPad cases, the cell phone cases, and also some new ceramic coffee mugs. The designs and artwork on these cases and mugs are completely unique to Medals of America and cannot be found anywhere else.
Well known and favored for their products by military personnel and their families, Medals of America is also known for their dedication to veteran affairs. They have a heart for the military and those who have given their service for our great nation. The company has been owned and operated by veterans for thirty-seven years and are committed to veterans and their families as well. Medals of America is a great place to get more information on the history of the United States military medals on the blog at http://blog.medalsofamerica.com/.
About Medals of America
Medals of America is the premier source for Military Dog Tags, Car Decals, Medals, Badges, Military Ribbons, Patches, Rank, Rates and Insignia, as well as Custom Embroidered Clothing. We're also proud to offer our exclusive Rack Builder, Military Medals Builder and Custom Display Case Builder.
Veteran owned and operated for more than 36 years! Our mission is simple - we want every Veteran and Service person to display the Medals our grateful Nation awarded them. Anything we can do to have all the great Americans who served their country in the Military Forces display their award will enrich future generations by these symbols of Duty, Honor and Country.
Medals of America
114 Southchase Boulevard
Fountain Inn, SC 29644
800-308-0849