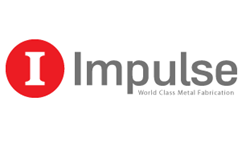 We are really pleased to be able to provide this new coating capability to our customers who require superior paint adhesion and rust protection.
Atlanta, GA (PRWEB) July 31, 2013
Impulse Manufacturing, an industry leading Southeast metal fabrication company, has confirmed plans to install an Autophoretic® (A-Coat) coating system at its Dawsonville, Georgia facility. Plant personnel are still considering multiple options, but current plans are for an 11 stage pretreatment process that includes acid-bath and pickling stages for carbon edge removal, Autophoretic application, and various cleaning stages. The system will also include a Nordson ColorMax top coat booth for powder application post-treatment. The new system, equipped with variable-speed controls for line speeds of up to 18 ft / minute, is capable of processing parts 4 ft wide X 6ft tall and can support weights in excess of 1,000 lbs.
Autophoretic auto-disposition provides anti-corrosion protection for many applications including vehicle components. The epoxy-acrylic urethane coating has superior heat resistant stability, superb top coating characteristics and elasticity. Also known as A-coat, Autophoretic auto-deposition is a water based process that uses chemical reactions with the surfaces of ferrous objects to deposit the coating. The process enables heat resistant ferrous metal parts to be coated without depositing coating on non-ferrous pieces.
Benefits of Autophoretic auto-deposition include:

Superb adherence & resistance to abrasion, cuts, scratches and corrosion
Adherence to wet surfaces which improve production, lowers process temperatures
Coats difficult areas including threads, joints and welds, and interior surfaces of tubes providing corrosion protection on all part surfaces
Precision coating thickness can be controlled on precision components
Low environmental impact due to it being water based with very low VOCs
Consistent coating appearance
Karl Baysden, Director of Sales and Marketing for Impulse Manufacturing, spoke about the new Autophoretic auto-deposition metal finishing system. "This new coating system will provide our customers with a coating system that provides consistent thickness of coverage on complex parts. The system provides complete coverage on complex shapes and hard to reach recesses on ferrous parts. Because it is water based, it is much friendlier to the environment than some other coating systems. We are really pleased to be able to provide this new coating capability to our customers who require superior paint adhesion and rust protection."
Impulse Manufacturing is a leader in Georgia metal fabrication products. They are dedicated to providing the highest quality products to their customers. Impulse Manufacturing's processes and procedures are certified by ISOQAR for quality assurance. They are located at 55 Impulse Drive, Dawsonville, GA 30534. For more information about Impulse Manufacturing's capabilities, they can be contacted by phone at (706) 216-1700 or by email. Autophoretic is a registered trademark of Henkel Corporation. Website and web marketing provided by Atlanta SEO Company, Interactive Search Marketing.