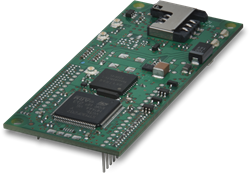 It provides a cost-effective path for our customers to quickly get activated on Rogers' network. - Gregg Zastrow
MINNEAPOLIS, MN (PRWEB) July 31, 2013
Multi-Tech Systems, a leading M2M (machine-to-machine) communications solutions provider, announced today that its SocketModem® iCell intelligent embedded cellular modem has passed Rogers Device validation for data and RF. This means companies can incorporate this ready-to-integrate communications device without pursuing additional carrier certifications on their own, significantly reducing time to market and the costs associated with this process.
Customers considering a module for their communications solution can incur certification costs up to $87,000 and need anywhere from four to ten months to complete the process. In contrast, Multi-Tech's SocketModem iCell is approved as a complete, standalone modem, eliminating these costs and delays.
"Multi-Tech is excited to offer our device networking solutions that have passed Rogers Device testing and ready for customers to integrate," said Gregg Zastrow, Multi-Tech Senior Product Marketing Manager. "It provides a cost-effective path for our customers to quickly get activated on Rogers' network."
The SocketModem® iCell intelligent cellular modem H5 model is a complete, ready-to-integrate communications device that provides 3G HSPA+ performance. This quick-to-market solution allows developers to add wireless communication and GPS tracking to products with a minimum of development time and expense. The intelligence of the embedded Universal IP® stack allows for automatic/persistent connectivity for mission-critical applications and enhanced M2M functionality. The SocketModem iCell intelligent cellular modems are based on industry-standard open interfaces and utilize Multi-Tech's Universal Socket design.
For more information about Multi-Tech's approved embedded solutions, watch this video or read this Embedded Certification Guide. Customers are encouraged to contact their Multi-Tech sales representative to receive a developer's guide that discusses the regulatory and carrier requirements for complete solutions.
About Multi-Tech Systems
Multi-Tech Systems has been delivering industry-leading M2M (machine-to-machine) communications solutions since 1970. With more than 22 million devices deployed worldwide, Multi-Tech focuses on helping customers achieve the shortest path to M2M connectivity – from concept to implementation and total lifecycle management. Whether a project is simple or very complex, Multi-Tech has the resources and expertise to work with any development team to customize a hardware or software solution that maximizes speed to market and return on investment. With carrier-approved external and embedded modems and gateways, Multi-Tech makes it easy and fast to connect your devices to networks anywhere in the world. We work with clients in almost any market to enable cellular, analog, Wi-Fi®, Bluetooth® and GPS capabilities into a solution to achieve superior business results. If we don't have it, we will develop it. Multi-Tech established its reputation for Innovative Designs and Innovative Solutions by obtaining 80+ patents and certifications from more than 30 carriers and over 80 countries. Multi-Tech has made M2M Simplified for thousands of customers around the globe. http://www.multitech.com. Twitter: http://www.twitter.com/MultiTechSys