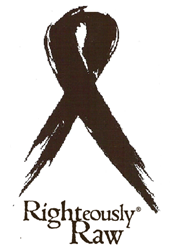 Let's make this October about BROWN, not pink. And help spread awareness about the power of dark chocolate and healthy nutrition to reduce the risk of cancers and other diseases
San Diego, CA (PRWEB) July 31, 2013
As October draws closer, foundations, organizations, and groups throughout the nation gear up for National Breast Cancer Awareness Month. Thousands of fundraising events will take place, gathering the public together under a massive pink blanket in a show of solidarity and support for the prevention, treatment, cure, and awareness of breast cancer. Millions of dollars will be raised as the ubiquitous pink ribbon takes center stage once again. At Earth Source Organics, however, a different color dominates: BROWN.
While significant strides have been made thanks to the dedicated work of countless organizations, the emphasis has rested largely upon the perpetuation of breast cancer awareness rather than the intensive research necessary to develop viable cures and to explore other ways to help reduce risk, such as through controlling nutrition. Much funding goes to these awareness and screening efforts, leading to an overstatement of the benefits of mammograms while dismissing the risks of over-diagnosis and unnecessary treatment.
It is in answer to these shortfalls that Audrey Darrow founded Earth Source Organics. As someone with intimate knowledge of breast cancer and its lasting physical and emotional toll, Audrey states, "Not once in all these years has anyone mentioned the healing benefits of food as a medicine to reduce the risk of cancer and its recurrence. I want to stop this pink crap. I want to empower American women, not victimize them." She created Earth Source Organics' line of gourmet chocolate, Righteously Raw, as an expression of this desire to take her healing into her own hands – to reclaim her life and her body from the toxic effects of radiation and the battery of treatment drugs.
Righteously Raw Chocolate products harness the antioxidant power of the raw cacao chemical components known as flavonoids. These flavonoids work to fight free radicals and thus reduce risk factors of cancer. Their disease fighting properties extend beyond the reduction of free radicals and have been shown to carry many cardiovascular benefits as well. These include a reduction in inflammation and the risk of stroke, an improvement in blood flow, and protection against heart disease. With majority of products containing over 80% raw cacao, Righteously Raw Chocolates pack in all these health benefits without any refined sugars or processed ingredients. A myriad of superfood truffles such as açaí, goji, and maqui berry add touches of sweetness while boosting the immune-strengthening power of Righteously Raw products.
Earth Source Organics and Righteously Raw Chocolates are Audrey Darrow's personal campaigns against breast cancer. They are her messages of empowerment through healthy living that she strives to spread to others. "Let's make this October about BROWN, not pink," she declares, "and help spread awareness about the power of dark chocolate and healthy nutrition to reduce the risk of cancers and other diseases."
More about Righteously Raw Chocolates:
Righteously Raw is the gourmet chocolate brand of the certified organic food manufacturing company Earth Source Organics. Based in Southern California, this company is on a mission to provide organic and delicious foods to its customers to help them lead happy, healthy lives. For more information and to find Righteously Raw Chocolate near you, please visit http://www.righteouslyrawchocolate.com.
To learn more about the power of dark chocolate and the fight against breast cancer, please contact Audrey Darrow at (760) 734-1867 or e-mail info(at)earthsourceorganics(dot)com.