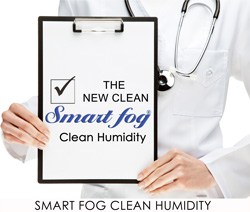 Clean humidity, no particles introduced by the Smart Fog Commercial humidification system
Reno, NV (PRWEB) July 31, 2013
This week Smart Fog Inc announced a new slogan, clean humidity. When selecting a commercial humidifier for an office building, printing house, winery or manufacturing facility one of the top selection parameters today is low maintenance, non wetting and foremost clean. The increasingly polluted world creates many new challenges in manufacturing and creating human comfort.
Smart Fog provides a fully automated system, allowing for continuous monitoring, logging and control of the humidity level and air quality. Adding clean humidity to the building is critical to maintain a clean and hygienic work environment and increase productivity. All the HVAC ducts can be maintained free of dust and mold. Utilizing the Smart Fog systems, building owners can save on costly cleaning.
In manufacturing facilities, Smart Fog's clean humidity ensures the processes are free of unwanted particles and enhances the quality and consistency of the products.
Smart Fog humidifiers are free of particles, when the water evaporates nothing other than pure humidity remains. No minerals, chemicals, dust or organic pathogens will enter the space through the Smart Fog system into the targeted space. Smart Fog entirely evaporates every droplet of water without moistening any surface and without introducing into the air any new dust particles.
Smart Fog commercial humidifiers come standard with many hygienic features. Smart Fog manufactures the system utilizing highest grade raw materials. The water and air thoroughly filtered, leaves no particles or odors. The system continuously oxidized making the entire system bacteria, mold and virus free.
Smart Fog suppresses dust from the air. The strong adhesion created by Smart Fog's patented decorrelation process attracts all partials in the air and suppresses them to the floor leaving a dust free environment.
About Smart Fog Inc.
In business since 1980, Smart Fog Inc. is the recognized world leader in non-wetting commercial and industrial humidification solutions. Smart Fog's unique technology provides precise humidity enforcement, light speed uniform coverage and intelligent non-fluctuating humidity control. All Smart Fog products are engineered and manufactured in the USA.
For more information, visit: http://www.smartfog.com