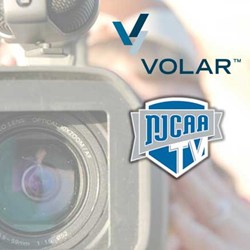 Over the past four years of NJCAA TV we have seen tremendous growth and technological advancements thanks to our partners at iHigh.com and now Volar Video.
Colorado Springs, Colo. (PRWEB) July 30, 2013
The National Junior College Athletic Association (NJCAA) announced today its online digital video network, NJCAA TV, will be upgraded to Volar Video, a new innovative broadcasting platform from the experienced leadership team that previously led iHigh.com (now a subsidiary of Volar Video).
As of August 15, 2013, the new home for NJCAA TV will be http://www.njcaatv.com. NJCAA TV will continue to provide fans unprecedented live access to NJCAA national championship and regular season contests free of charge.
Volar Video's proprietary software will allow the NJCAA and its member colleges to further promote their teams and events with live streaming capabilities and enhancements like seamless multi-camera switching and full custom graphics. The software supports the embed of the video stream to custom or existing websites, and fans can view on desktops, tablets, mobile phones and smart TV's.
In addition, Volar Video's platform provides the opportunity for its clients to capture revenue by enabling geo-targeted advertising through the development of mid-roll ad insertions.
Based in Lexington, Ky., and led by renowned sports multimedia expert Jim Host, Volar Video is fast becoming the industry standard in digital broadcasting solutions. The Mountain West Conference (NCAA Division I) recently announced it will utilize Volar Video's new broadcast software to enhance its MWC Digital Network. Volar Video has also recently signed an agreement with the Kentucky Motor Speedway.
"Volar Video not only provides colleges with a cost effective way to live stream events but more importantly, it affords an avenue to monetize the process," said Host, Chairman of Volar Video. "By using our proprietary solution, colleges can easily and cost-effectively connect with audiences no matter their location or their preferred viewing platform. We believe this application has the opportunity to revolutionize how organizations stream events and how users view them."
Launched in August of 2009, NJCAA TV spent the previous two years on the iHigh.com platform, providing the organization the ability to live broadcast select national championship events while also enabling member colleges to broadcast their regular season contests. For the 2012-13 season, NJCAA TV featured over 4,700 live broadcasts of national championship and regular season contests – a 40 percent (40%) increase from 2011-12. Even more impressive, NJCAA TV drew nearly 2 million visits (up 125%) from over 1.3 million unique visitors (up 265%) this past year.
"Over the past four years of NJCAA TV we have seen tremendous growth and technological advancements thanks to our partners at iHigh.com and now Volar Video," said NJCAA Executive Director Mary Ellen Leicht. "We very excited to say the least about the upgrades NJCAA TV will be receiving with Volar Video and what that means for the network's future. Our national championship events as well as our college's regular season contests are going to benefit greatly."
Per the terms of the agreement, Volar Video will exclusively oversee NJCAA Sports Properties – the corporate and multimedia rights arm of the association that was previously operated by iHigh.com. NJCAA Sports Properties includes the organization's rights detailing national advertising (print and web), national championship marketing, corporate sponsorships, radio, television, digital as well as NJCAA TV.
The enhanced partnership with Volar Video highlights the ongoing, aggressive efforts the NJCAA has made in recent years to showcase itself to a national audience. The organization is the second-largest national collegiate sports association in the United States and is dedicated to improving the two-year college student-athlete experience as well as further showcasing its member colleges and national championship events.
Volar Video was founded in 2012 and is headed by Host, the former chairman and CEO of Host Communications, which was founded in 1972 and became IMG College in 2007.
About the NJCAA
Since 1938 the National Junior College Athletic Association (NJCAA) has been the governing body of two-year college athletics, offering athletic and academic opportunities to college students. The NJCAA is the second largest national intercollegiate athletic organization in the United States with over 500 member schools in 43 states. Each year nearly 60,000 student-athletes compete in one of 28 different sports and the organization sponsors 48 national championship events and nine football bowl games. NJCAA Headquarters has been located in Colorado Springs, Colo., since 1985. For more information visit http://www.njcaa.org.
About VOLAR VIDEO
Volar Video is a digital video technology company whose proprietary software and production platform empowers clients to broadcast, stream, distribute and monetize events, sports and video productions at dramatically-reduced costs to traditional broadcasting. Led by an experienced team of production, software, marketing and sports executives, Volar Video delivers customized video solutions across television, computer and mobile platforms. Volar Video has offices in Lexington, KY and New York City. For more information, visit http://www.volarvideo.com.