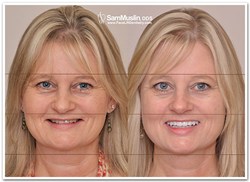 You will never look your best, feel your best or achieve maximum health unless your jaw position and bite are idealized.
Santa Monica, CA (PRWEB) July 31, 2013
Santa Monica dentist Dr. Sam Muslin, a crusader for healthy baby boomers, announces the development of a new dental protocol called Face-lift Dentistry®, a health and cosmetic dental strategy that is more relevant in 2013 than ever.
The number of Americans 65 and older grew 18 percent in the United States between 2000 and 2011, notes Dr. Sam Muslin, DDS, a prominent West Coast dentist who has been featured on the Emmy-winning TV show "The Doctors" and in the Wall Street Journal.
"In just a decade, there are 42 million more senior citizens in this country," says Dr. Muslin. "This trend is part of the reason I've developed Face–Lift Dentistry®. It addresses many of the changing health concerns of this population segment and offers an alternative to invasive plastic surgery. People are living and working longer. Boomers are socially active – right in the thick of things – and they want their looks and health to mirror their mindset."
Face-lift Dentistry® does not incorporate surgery or repeated injections like typical facial procedures associated with plastic surgery. Instead, Dr. Sam Muslin assesses wrinkles and face shape and evaluates patients' bite mechanics. He looks for damaged teeth and irregular chewing. A compromised jaw position hinders optimal bite, he explains. Over time teeth wear down, contributing to loss of facial length and support. That imbalance contributes to wrinkles and the "grumpy old-person look." Worn teeth often acquire cracks. Infection and gum disease set in too, compromising oral health as well has the whole body's well-being.
"Cosmetic surgery is a superficial procedure. It doesn't address the real cause of the aging face or problems like TMJ pain or gum infection," says Dr. Muslin. "In a surgical facelift, the skin and tissue are cut away and then stretched back. You get tighter skin, but the teeth are still worn, jaw mechanics stink, and the receding chin still mars the profile. The patient looks saran-wrapped, but not younger!"
Dr. Muslin utilizes three-dimensional technology to determine the most natural lower-jaw position and aesthetic face shape. He treats decay and inflammation to improve oral and systemic health. Then, he customizes dental treatment to improve jaw mechanics and restore face length. Old fillings, mismatched veneers and crowns are replaced, using matching biologically compatible materials while avoiding grinding the natural teeth.
"When tooth length and jaw position are restored to a healthy position and underlying decay is removed, my patients look and feel younger. By restoring face length and support structure, we can attack the root cause of aging looks. Laugh lines and puppet-mouth wrinkles that form from repeated jaw movement are things that Face-lift Dentistry® can address. My cosmetic dental approach minimizes the look of jowling, chin creases and thinning lips, too – all without a scalpel," says Dr. Muslin.
Poor bite mechanics and lack of tongue space caused by worn teeth can affect speech and sleep quality, too. Less space for the tongue constricts air flow and can contribute to snoring, says Dr. Muslin. Insomnia hurts overall health and hinders how a person functions during the day. A bad bite can lead to jaw and ear pain and migraines, as well.
"By educating consumers, I give them options. They don't have to go to a plastic surgeon to restore their looks. There is a better way – one with lasting cosmetic and health results. Elite dentistry addresses both cause and effect of the aging face. As consumers take life expectancy into account, I think they'll appreciate the return on investment."
There were 76 million people born between 1946 and 1964. Life expectancy for people turning age 65 is on average an additional 20.4 years for women and 17.8 years for men, according to Age Wave consulting firm. Those statistics are going to sway perspective and patients' choices in the future, believes Dr. Muslin.
"Patients aren't going to want a quick fix any more. They need results that are going to last! A bright smile is always appealing, but I think improving facial balance will be the future standard of care in cosmetic dentistry. Boomers are smart enough to get that." says Dr. Muslin.
To see examples of Dr. Sam Muslin's Face Lift Dentistry ®, visit his YouTube channel or the before-and-after photos on his anti-aging dentistry website at http://www.faceliftdentistry.com. For interviews, call Dr. Muslin's Santa Monica office at (310) 829-6796.