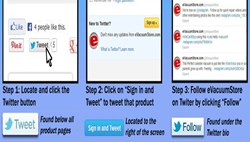 Boston, MA (PRWEB) July 31, 2013
Since July 13, 2013, the online vacuum superstore eVacuumStore.com has been running a Twitter sweepstakes that gives consumers a chance to win any product on their website by simply sending a tweet about it. The surprising and exciting aspect of this contest is that it does not just apply to inexpensive items like bags, belts and small attachments; participants also have a chance to win expensive prizes, like complete vacuum cleaners and accessory packages. Aside from sending a simple tweet, the only other requirement for entrance is becoming a Twitter follower of eVacuumStore.com, which can be done before or after tweeting their chosen product. "We're just looking to give something back to our loyal customers. We think this Twitter contest is a simple and exciting way to do that," said Bob Evans, one of the website's owners.
The contest ends on in just two weeks on August 13th, and the winner will be randomly selected shortly after. The winner will be notified via email or will be announced directly on the company's Twitter page. Additionally, according to the official rules, the winner must claim his or her prize within 14 days of being notified as the winner. Complete contest rules can be viewed on the official eVacuumStore sweepstakes information page.
About eVacuumStore.com:
eVacuumStore.com is well-known to its patrons for specializing in sales, information, and even diagnostics and troubleshooting on vacuum cleaners, vacuum cleaner parts and accessories, as well as a wide variety of other cleaning products and machines such as steam cleaners and shampooers. With eVacuumStore, prices already associating the company with bargain deals, discounts, and low prices, sales specific to this time of the year will make the popular internet destination all the more attractive to anybody looking to upgrade their vacuum cleaner, add to their arsenal of cleaning tools and accessories, or replace bags and filters that have fulfilled their duties inside the vacuum.