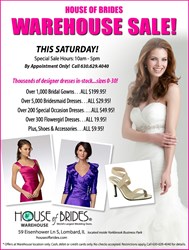 Industry consultant Dale Buziecki states, "The savings are tremondous. Designer gowns that retailed for as much as $8,000.00 are now just $199.95."
Lombard, IL (PRWEB) July 30, 2013
House of Brides is preparing for their largest Warehouse Sale since its grand opening in January 2012. The retailer is drastically slashing prices on wedding dresses, bridesmaid dresses, special occasion gowns and more for Saturday's event.
All bridal gowns are on sale for $199.95 during the 1 day sale. Over 1,000 designer gowns are available for immediate purchase. Bridesmaid dresses are $29.95 with an impressive 5,000 styles in-stock in a variety of sizes and colors.
Hundreds of Mother of the Wedding and speical occasion gowns are $49.95. Flowergirl dresses are $19.95.
Shoes, jewelry and accessories are also on sale for $9.95.
The sale marks the first time the bridal retailer is offering flat rate pricing on its warehouse inventory. The customer response is expected to be substantial. Industry consultant Dale Buziecki states, "The savings are tremendous. Designer gowns that retailed for as much as $8,000.00 are now just $199.95."
The warehouse is located at 59 Eisenhower Lane South in Lombard, Illinois, inside the Yorkbrook Business Park. The location is open to the public only during advertised events and exclusively by appointment.
The selection is enormous with a wide array of styles, sizes and colors. Everything is available off-the-rack for immediate purchase and payable by cash, debit or credit card.
House of Brides Warehouse is open Saturday August 3rd 10:00 – 5:00pm. The sale is available at the Lombard location only and is not offered at the retailer's other salons.
The sale is by appointment only. Walk-in customers will not be accepted. Appointments are 1-hour. Customers may call 630-629-4040 to schedule an appointment.
For appointment and location information, view the Warehouse Sale ad on House of Brides' website.
About House of Brides:
House of Brides established its first brick-and-mortar store in 1929 and has since grown to 11 Chicagoland stores and global E-Commerce website, http://www.houseofbrides.com. Millions of brides and their wedding parties visit the salons and global website for over 50,000 wedding and special event products.