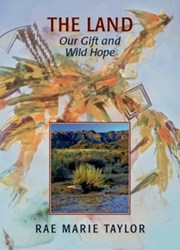 This work is a journey of the heart to find a way back 'home' motivated by the mystical experience of the family cabin and the New Mexico of her early memories.
Evergreen, CO (PRWEB) July 31, 2013
Rae Marie Taylor selects Brook Forest Voices (BFV) audiobook producer and publisher to produce "The Land: Our Gift and Wild Hope" as an audiobook. Born and raised in Colorado and introduced at age ten to New Mexico, Rae Marie Taylor early on cultivated an appreciation for the beauty and cultural diversity of the American Southwest as well as a sense of shared habitat and kinship with its vegetation and wildlife. As stated in the introduction written by Margret Carde, "In 'The Land: Our Gift and Wild Hope' Rae Marie Taylor remembers with aching beauty her experience of the western landscapes of Northern New Mexico and Colorado as an energetic young girl roaming freely through a wild and abundant land. Here memories are inextricably tied to family and community living with, not on, the land."
A spoken word poet and star of many one-woman shows, Rae will serve as narrator and tell her own story in a series of eyewitness accounts, interviews, lively anecdotes and an occasional poem. Rae will be traveling to the BFV studios in Colorado; fittingly she has said, "My life has been rhythmed and punctuated with return visits and extended stays in the wilderness of the Rockies and the high desert in New Mexico."
About Brook Forest Voices: a complete audio production studio located just west of Denver in Evergreen, CO specializing in audiobook narration, production and publishing. BFV is designed to help large and small publishers as well as authors with all their audio needs. Publishers and authors wanting to learn more can visit http://www.brookforestvoices.com or contact Jaime Andrade, BFV Business Manager at 303-670-4145.