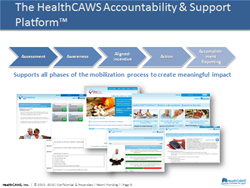 HealthCAWS solutions represents cutting edge work that has been much needed in the healthcare marketplace for a very long time.
Farmington, CT (PRWEB) July 31, 2013
HealthCAWS Inc. is pleased to announce the addition and recognition of highly experienced individuals to its Strategic Advisory Board, Walter Olshanski and Dexter Shurney, MD.
Dr. Shurney, a Chief Medical Officer and former professor at Vanderbilt University, has been working with HealthCAWS on a variety of initiatives since its inception. Dr. Shurney has positively reviewed HealthCAWS' Accountability & Support Platform™ live with both our consumer and provider facing portal, and the organizational facing portal and business intelligence solution set. "Dr. Shurney's clinical and population health industry expertise is invaluable to HealthCAWS as we advance our solutions to support consumers, providers and other stakeholders via further deployment of the HealthCAWS Accountability & Support Platform™ to new clients and in new ways to meet evolving market demands," says Rose Maljanian, Chief Executive Officer of HealthCAWS.
"HealthCAWS solutions represents cutting edge work that has been much needed in the healthcare marketplace for a very long time," says Dr. Shurney.
In addition to supporting consumers with interactive health management tools, action plans and progress reports, HealthCAWS is focused on supporting provider needs related to their growing responsibility for the results of healthcare. Providers are taking on more performance risk for quality outcomes and financial risk for overall cost of care and HealthCAWS' solutions are aimed at helping them be successful. To this end, Walter Olshanski, Senior Vice President of Key Bank Healthcare has been added to the HealthCAWS Advisory Board. With an extensive background in healthcare mergers and acquisitions, strategic options and corporate financing options, Walt will provide important insights to HealthCAWS on provider risk models, investor strategy and business development," says Maljanian.
"As a result of healthcare reform, the healthcare delivery puck is moving from fee-for-volume to fee-for- value based capabilities. In the near future, providers and payors will work as co-pilots with consumers to improve the quality of healthcare delivery. As a result, organizations like HealthCAWS are positioned to help enable the transition from fee-for-volume to fee-for-value."
"The healthcare industry and marketplace are continuing to evolve daily. We have built our mission and technology to focus on quality and better value for every healthcare dollar we spend as a nation. We believe that by supporting consumers and providers in a way that that allows them to be successful in this new environment of accountability, we can accomplish that goal. I am grateful for the commitment of our clients, collaborators, supporters and Dr. Shurney and Mr. Olshanski as they take on and continue these important advisory board roles," says Maljanian.
About HealthCAWS:
HealthCAWS is a health care services company focused exclusively on helping payer, population health and delivery system clients improve health and reduce health care costs. By Combining Accountability with Support in an adaptable technology Platform, HealthCAWS mobilizes consumers and providers in a unified effort to achieve the common goal of high quality, affordable care – "the CAWS™".