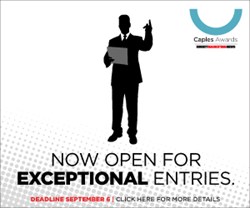 New York, NY (PRWEB) July 30, 2013
Sometimes a piece of marketing creative is so scintillating—so downright courageous and engaging—it makes the hair stand up on the back of your neck.
That's why there's the Caples Awards, an awards program dedicated to honoring the best and most original interactive, digital, integrated, and direct marketing creative from around the world.
With just under two months to go until this year's deadline—hint: creative directors need to get those entries in—the time to nominate courageous creative is now. With 25+ categories to choose from— including shiny new ones like "digital content" and crowd-pleasers like "Courageous Client"—there are multiple ways for agencies to submit their work. The deadline is Sept. 6, so creative directors need to get cracking if they want their company to join the ranks of top global agencies from across the globe that make it their business to enter Caples ever year. We're talking the U.S., Austria, Belgium, England, Germany, Spain, New Zealand, Switzerland, and a host of other creative hotbeds.
Once all the entries are in, our panel of top international judges will descend upon NYC for two intense days of closed-door discussion, deliberation, and lively debate (think lots of coffee) as they share their unique perspectives on the work and come out at the other end exhausted, enlivened, and ready for more.
Following the judging period, all are invited to join Caples for the big reveal on November 14, where attendees get to sip cocktails—and drink in the world's most creative work gallery-style—while the winners are announced.
This year's Caples will put an added emphasis on the Courageous Client Award—an established Caples category, to honor those who boldly venture into the unexplored and achieve the unexpected.
"Courage inspires creativity and creativity means Caples," says Joanna Harp, publisher of Direct Marketing News. "The work honored by Caples isn't just sexy—it's brave, and that's what makes the Caples winners circle such a source of inspiration."
So, for the agencies leaders who want to have their work judged by some of the top creatives in the industry, it's time to download the Caples entry kit. As we said, the deadline to submit entries for all categories is September 6, 2013 at 11:59 p.m. ET. We're waiting.
For more information, contact Nicole Marshall at nicole.marshall(at)dmnews(dot)com, (646) 638-6059, or visit caples.org.
For sponsorship information, contact Greg Zalka: greg.zalka(at)dmnews(dot)com or (646) 638-6027.
About Caples Awards. Founded in 1978, in honor of a renowned copywriter Andy Caples, Caples Awards continues to celebrate the boldest, most creative marketing strategies from agencies all across the globe. It is owned and operated by Direct Marketing News, a Haymarket Media brand.
About Direct Marketing News. Direct Marketing News is the leading publication in all things marketing, and is the go-to resource for marketers seeking to keep on top of the latest industry news, hottest strategies across multiple channels, and best tactics to propel campaign ROI. Our print and digital content reaches a BPA-audited circulation of more than 150,000 top-level marketing professionals.