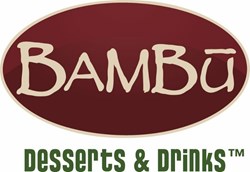 Stockton, California (PRWEB) July 31, 2013
Bambu Desserts & Drinks, the renowned San Francisco Bay Area Vietnamese dessert drinks and chain, announces the grand opening of its first shoppe in the Stockton, California metro area. "We are completely thrilled that we now have a presence in the Central Valley," said Julie Nguyen, co-founder of Bambu Desserts & Drinks, Inc. "The shoppe's design has a fresh, clean, minimalist look. We continue to be amazed that our Vietnamese inspired chè is being loved by so many people around California."
Bambu Stockton opened its doors on Friday, July 26. Its regular hours are Tuesday through Thursday from 10:00 am to 8:00 pm; and Friday to Sunday from 10:00 am to 9:00 pm. Since doors have opened, this shoppe has been busy non-stop. "Stockton is finally saying more chè please," said Tien Phan, co- owner of Bambu Stockton. "This is something that has been a long awaited treat and we're excited that Bambu was warmly welcomed during our soft opening."
Bambu Stockton's grand opening will take place on Saturday, August 3 to welcome the community and Bambu lovers from near or far. The shoppe is located at 1304 East Hammer Lane, Suite 11, Stockton, California—at the corner of Hammer Lane and West Lane. This popular area is adjacent to multiple supermarkets making it an ideal location for a Bambu.
"We learned about Bambu from our regular visits to Bambu Sacramento," said Damon Ho co-owner of Bambu Stockton. "Once we found out about the ownership opportunity, we were literally among the first in line. We love Bambu so much that my best friend, Tien, and our wives just had to have our very own Bambu."
Bambu Desserts & Drinks was founded in 2008 by four sisters in San Jose, California. With twenty new shops opening in the past 18 months, Bambu has become nationally known for its fresh, healthy and colorful Vietnamese-inspired chè, fresh coconut drinks, Vietnamese espressos, blended coffees, and exotic smoothies. Their menu has nearly 100 desserts, coffees, teas and drinks to select from, but you can order any item "just the way you love it" including extra jellies, pearls, or shot of espresso.
"As Bambu chèmania continues to grow," continued Julie Nguyen. "We look forward to expanding the Bambu family across the U.S." For more information on Bambu Desserts & Drinks visit http://www.drinkbambu.com.