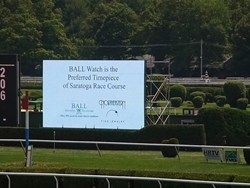 St. Petersburg, FL (PRWEB) July 31, 2013
BALL Watch USA, along with Northeastern Fine Jewelry, will present the winning owner, trainer and jockey of the Traver Stakes with a commemorative BALL watch on August 24th in the winner's circle. This event will be televised on NBC Sports. The watch that will be presented is the Trainmaster 21st Century.
Both BALL Watch USA and Northeastern Fine Jewelry are anticipating a successful racing season and are thrilled to partner with the Saratoga Race Course as the preferred timepiece sponsor for the 2013 season.
Please contact Mr. Tony Wasserman, BALL Watch Senior Vice President of Marketing, at 727-896-4278 or email him directly at tony(at)ballwatchusa(dot)com with any questions regarding BALL Watch USA's participation in the 2013 Saratoga Meet.