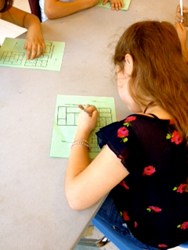 ...my team and I wanted to tutor kids in math. Because of the KenKen puzzles we can have the pleasure of watching kids get excited and learn at the same time."
Jing Xie, IBM
Pleasantville, NY (PRWEB) July 31, 2013
Young campers from the White Plains Youth Bureau's Bits and Pieces Summer Camp will have the opportunity to participate in a KenKen puzzle competition hosted by IBM on Aug. 2 at the Church Street School in White Plains, NY. About 50 campers are expected to be involved in a challenging pencil and paper KenKen puzzle competition.
Ever since County Executive Robert P. Astorino launched his STEM initiative to promote (S)cience, (T)echnology, (E)ngineering and (M)ath in Westchester County Schools, in March he has been on the look out for something to engage the logical minds of Westchester's children. Astorino stated, "the KenKen contest is a way to work on math skills in a fun, challenging way."
Iris Pagan, executive director the Westchester County Youth Bureau said as well, "the skills the campers learn have the potential to help them in their everyday lives, far beyond just math classes."
The idea for the contest emerged from an interaction between Pagan and Jing Xie, a member of the Westchester County Youth Board, who also happens to be an employee at IBM. Xie said, "my team and I wanted to tutor kids in math. Because of the KenKen puzzles we can have the pleasure of watching kids get excited and learn at the same time."
The competition will without a doubt challenge the young minds of the campers, and give them an enjoyable experience as well. KenKen is "the puzzle that makes you smarter" and it also makes math fun! KenKen is played on many platforms including mobile apps, books and on kenken.com
KenKen (div. of Nextoy, LLC) has a local office in Pleasantville, which will be assisting with the camp competition. Robert Fuhrer, founder of the company, said: "We're thrilled IBM and the Westchester County Youth Bureau are introducing KenKen puzzles to the kids of Westchester. Over 30,000 teachers nationwide have already discovered that KenKen, an easy-to-learn and unbelievably fun math and logic puzzle, can help even the most math-averse students develop not only math skills, but vastly improve their logic and critical thinking skills while instilling a sense of self-confidence and developing perseverance."
About KenKen®
KenKen® logic puzzles were first invented in Japan by Tetsuya Miyamoto, promoted as "Kashikoku Naru Puzzle" or the "Makes You Smarter" puzzle, and brought to the rest of world through Nextoy, LLC. With the main goal being to improve students' cognitive abilities in mind, he developed a brain stimulating exercise that would be understandable, fun and challenging for students of all levels. Today, Mr. Miyomoto's classroom vision seems to have become a reality