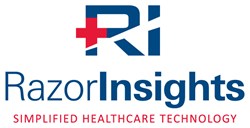 Kennesaw, Georgia (PRWEB) July 31, 2013
RazorInsights, a leading provider of healthcare information technology solutions for rural, critical access and community hospitals, announced today the company is attending the Illinois Rural Health Association Annual Educational Conference to be held at the Keller Convention Center in Effingham, IL on August 22-23, 2013.
Conference attendees who visit RazorInsights' booth will discover how the company's ONE Enterprise HIS Solution will help them transition to a more efficient and safer clinical environment. ONE, an ONC certified solution, provides hospitals with a truly integrated, non-modular EHR residing on a single integrated database. Its robust financial and clinical capabilities, along with a fast and agile implementation process, make RazorInsights the perfect choice for rural, community and CAH hospitals.
The simplistic yet intuitive design of RazorInsights' ONE system allows administrators and clinicians with limited technical skills the ability to easily transition to an electronic environment, and its innovative use of cloud technology results in seamless upgrades. Hospitals and health systems using the scalable solution simply maintain a low, all-inclusive monthly subscription, alleviating the need to purchase and maintain a server and eliminating the purchase of a software license.
"We're thrilled to be attending this conference; the attendees of this show, healthcare professionals from rural hospitals throughout Illinois, are a perfect match for our health IT solutions," explained Brian Price, Regional Director of Sales for RazorInsights. "Our intuitive, cloud-based solution really helps small hospitals with limited IT staffs adopt and manage an electronic health record system."
About RazorInsights:
Based in Kennesaw, Georgia (in the metro Atlanta area), RazorInsights is a dynamic healthcare information technology company. In keeping with the principle of Occam's Razor, the company has created a simplified HIS solution for rural and critical access hospitals] - ONE (ONC-ATCB 2011/2012), a single-database cloud solution offering a simple user experience with cutting-edge clinical tools and industry-standardized data. Hospitals can expect to improve their performance and bottom line with ONE from RazorInsights. For more information, visit razorinsights.com or call 770-308-4111.