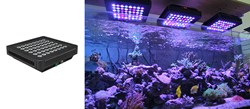 Making quality LED aquarium lights affordable.
Oakville, Ontario (PRWEB) July 31, 2013
LEDCanada.com, in collaboration with the aquarium experts at Oakville Reef Gallery, announces the launch of its GrowthStar™ AqauMax Aquarium Light. The culmination of years of research, AquaMax represents a new performance standard in aquarium lighting. Aquamax utilizes 12000K white, 430nm blue, 460nm blue, 405nm UV and 760nm Red LEDs. This technology has superior commercial grade drivers with high heat dissipation capacity, stabilizing the overall performance at levels not previously possible. With a IP52 rating against dust and water drops it is perfectly suited to the aquarium environment.
"We have sold all the major brands of LED lights for years now and the Aquamax aquarium light has demonstrated the best combination of performance and value we have seen in the industry. The color rendition and growth rates are unsurpassed even at higher price points," said Tom Wachtel, Founder of Oakville Reef Gallery.
The integrated wireless remote control and timer programmable intensity functions make it a fully customizable solution from dusk to dawn settings, moonlight settings and with kelvin customizable from 12,000-20,000.
AquaMax is available online from http://www.aquarium-lights.com as well as retail stores across the country.