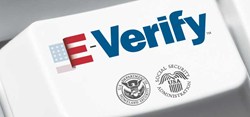 Double-checking statuses of new hires is just one more way HR Strategies keeps their clients compliant.
Duluth, GA (PRWEB) July 31, 2013
HR Strategies keeps their clients compliant with countless government regulations, saving those clients time, money, and stress. One of the regulatory issues they handle for clients is determining a new hire's eligibility to work. Per the U.S. Citizenship and Immigration Services website, "U.S. law requires companies to employ only individuals who may legally work in the United States – either U.S. citizens, or foreign citizens who have the necessary authorization." HR Strategies continues to handle this essential responsibility for clients, keeping them up to date with any changes made to the law.
In 2012, the U.S. Immigration and Customs Enforcement, henceforth referred to as ICE, conducted more than 3,000 workplace audits. These audits resulted in millions of dollars in fines for businesses all over the United States. ICE is responsible for making sure companies complete and retain a Form I-9 for all new hires. Form I-9 is the document used to verify a potential employee's eligibility to legally work in the United States. HR Strategies handles new hire paperwork for its clients; thus maintaining Form I-9s for all new hires.
E-Verify is an additional service HR Strategies provides their clients to further ensure the eligibility of new hires. According to the HR Strategies website, E-Verify is an "Internet-based, free program run by the United States government that compares information from an employee's Employment Eligibility Verification Form I-9 to data from U.S. government records. If the information matches, that employee is eligible to work in the United States." This step furthers the credibility of HR Strategies' worksite employees, setting HR Strategies apart from other companies.
As an additional perk, E-Verify recently announced a new customer service enhancement that will include prospective employees in the email notification sent to employers when a Tentative Nonconfirmation (TNC) is issued. Starting July 1, 2013, if an employee is issued a TNC, meaning a mismatched record, they will also receive the email notification that is sent to the prospective employer. A TNC simply means mismatched records, and does not necessarily mean the employee will be unauthorized to work. This new notification will give the employee a chance to turn in the necessary documents so when they are run through E-Verify again, their Form I-9 information will match the government's records.
As ICE continues to proceed with more and more audits in 2013, HR Strategies clients can feel confident in the legal status of all new hires. Double-checking statuses of new hires is just one more way HR Strategies keeps their clients compliant.
About HR Strategies
HR Strategies provides the customizable HR solutions (including but not limited to payroll, benefits, workers compensation, tax administration, regulatory compliance, HR consulting, training solutions) and expertise of a large corporation's personnel department in an affordable and effective solution. HR Strategies enables clients to reclaim time, stabilize and reduce labor costs, and stay compliant with government regulations.