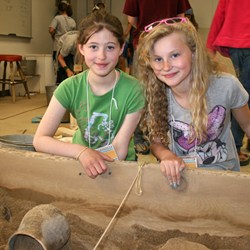 We're working with schools and teachers and listening to their wants and needs.—Crow Canyon Director of Education Kathy Stemmler
(PRWEB) July 31, 2013
The Crow Canyon Archaeological Center in southwestern Colorado, a leader in experiential education programming since 1983, will offer an updated curriculum and new activities to challenge school group students in 2014. In preparation for the rollout of its new programming, the Center has been piloting new education modules in 2013 that more closely mesh with current archaeological methods.
Crow Canyon educators have also been aligning their programs with Colorado state, STEM, and CORE standards, as well as 21st Century Skills, while taking advantage of new technologies such as MimioBoards to add a more interactive component to classroom activities.
"We're integrating technology into our programs, while keeping our focus on experiential outdoor education," said Director of Education Dr. Kathy Stemmler.
New evening programs for school group students will also be available in 2014, including a hands-on lab program with archaeologists, a creative timeline reconstruction, and an activity called It's More Than a Spoonful of Dirt—which teaches students about what archaeologists learn from the sediments they excavate.
In addition, Crow Canyon educators are revising existing modules, such as the Simulated Excavation. This activity, in which students excavate and map a site replica, is being updated to more accurately reflect authentic excavation practices and research methods.
Crow Canyon will continue to enhance and update educational offerings, but will keep what makes up the core of the Crow Canyon experience—the opportunity for students to learn about archaeology and discover the rich history of the Pueblo people through authentic experiential activities.
Educators from across the country are encouraged to register now for a field day or multi-day program to secure the time frame that best suits their schools' needs. School administrators or teachers should call 800-422-8975, ext. 146, or visit http://www.crowcanyon.org/schools for more information.
About the Crow Canyon Archaeological Center
The not-for-profit Crow Canyon Archaeological Center, located near Cortez, Colo., conducts long-term, multidisciplinary research into the ancestral Pueblo Indians of the southwestern United States and provides experiential education programs for adults, teens, and children. The Center also collaborates with American Indians on a wide variety of initiatives of mutual interest, including research projects, education curricula, and language- and cultural-preservation programs.