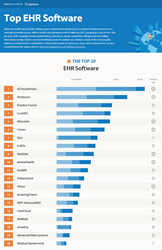 It's been estimated that 40% of medical professionals have already implemented an EHR...
(PRWEB) July 31, 2013
Capterra, an online service that connects buyers and sellers of business software, released an infographic today on the Top 20 Most Popular EHR Software Solutions. EHR software solutions eClinicalWorks, McKesson and Practice Fusion topped the rankings.
Electronic Health Record (EHR) software gives medical professionals access to patient medical records from a centrally-accessible system. Records typically include medical history, laboratory results, medication, allergies and even billing information.
"It's been estimated that 40% of medical professionals have already implemented an EHR, but with the HITECH Act going into effect in 2014, we expect that number will continue to increase," said Capterra President and CEO, Michael Ortner. "EHR software not only helps streamline the patient experience, but healthcare providers receive compensation for implementing the systems, as well, so everybody wins."
In 2012, Capterra ranked the Top 20 Most Popular EMR Solutions by using an algorithm to index each provider's popularity in the market. A similar popularity index was used this year, which includes the number of customers, number of users, and social media presence for each of the EHR vendors listed. This infographic is part of a series of infographics published by Capterra. Previous infographics include Learning Management Systems, Field Service Management, Marketing Automation, CRM software, and Hospitality Property Management, to name a few.
"Not only do we expect EHR software sales to continue to rise as 2014 approaches, but it wouldn't be surprising if physicians start switching from their original EHRs after discovering that their first pick wasn't quite what they were looking for," said Ortner. "It may be difficult for medical practices to make the initial transition to electronic records, but finding the right solution is going to make all the difference in how streamlined their implementation process will be in the coming year."
About Capterra
At Capterra, we believe software makes the world a better place. That's why we love connecting buyers and sellers of business software. Our website shows companies all of their options and provides free tools to help them make the right decision. We provide software companies with a free listing on our comprehensive directory and give them the opportunity to upgrade for more exposure. For more information, visit http://www.capterra.com.