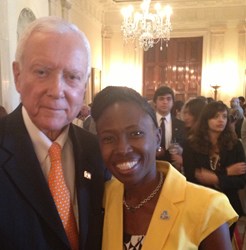 Awareness is important for a very rare cancer that is claiming the lives of about half the people who are diagnosed.
Washington, D.C. (PRWEB) July 31, 2013
Survivors of a rare cancer will continue to ask Congress to name July as Sarcoma Awareness Month until the end of the year, Sarcoma Alliance volunteer Suzie Siegel said Wednesday.
"People need to know that sarcoma nonprofits exist to help them and that there are sarcoma specialists with years of experience and knowledge not yet printed in journals," said Siegel, a leiomyosarcoma survivor in Tampa. "We're not asking Congress for money. We just want a hand in getting the word out."
There are more than 50 subtypes of sarcoma, a rare cancer of bone, muscle, nerve, fat and other connective tissues, Siegel said. It can arise anywhere in the body at any age, from newborn on up. It represents 15 percent of all childhood cancer cases, and 1 percent of adult cases.
The Sarcoma Alliance, a national nonprofit founded in 1999 in Mill Valley, Calif., chose the sunflower and the color yellow to represent sarcoma.
"I've been wearing yellow all month," said Rhonda Shackleford Ulmer, a survivor of metastatic retroperitoneal liposarcoma in Severn, Md. For community service, she was named a Point of Light in October 2009. Two months later, she was diagnosed with cancer.
"Hearing the 'C word' is very scary at the age of 34," she said.
In a sunny yellow suit, she attended a White House celebration this month for the 5,000th Daily Point of Light award, along with about a dozen other past recipients. President Barack Obama and First Lady Michelle Obama had invited her to help honor former President George H.W. Bush, who created the program, and First Lady Barbara Bush, Ulmer said.
"Sen. Orrin Hatch sort of took me under his wing that day," she said. "I pitched naming July as Sarcoma Awareness Month to everyone I spoke to. I will mail the president and the others to continue to push this great cause."
U.S. Rep. Kathy Castor of Tampa has introduced House Resolution 78, expressing support for July as Sarcoma Awareness Month. The Alliance is encouraging survivors to contact their representatives to cosponsor the resolution, or to ask their senators to sponsor a similar resolution, Siegel said.
In July, Ulmer said, she got the results from a PET/CT scan: No evidence of disease. "That was the highlight of Sarcoma Awareness Month for me."
"Awareness is important for a very rare cancer that is claiming the lives of about half the people who are diagnosed. The month gives us a platform to remember those who have passed away and keep in prayer all the cancer patients who continue to fight to live."
The Sarcoma Alliance provides education and support to people affected by the disease. Education matters to Ulmer, a single mother of three. When their elementary school was failing, she said, she stepped up her involvement. She developed a program to help families meet basic needs so that they could then help their children academically. AmeriCorps, her former employer, gave her a grant in 2008 to start the University for Parents, which brings her program to other schools.
She needed another kind of grant after her diagnosis. Through its Hand in Hand: The Suzanne Renée Leider Memorial Assistance Fund, the Alliance helped Ulmer with expenses in getting a second opinion. She is so happy with Dr. Mark Duncan, her surgeon at Johns Hopkins Bayview Medical Center in Baltimore, that she has nominated him for the Alliance's Outstanding Care Award. Winners will be announced in August.
"I'm blessed to have a doctor and care team that I trust and believe in."
For more information, go to: http://sarcomaalliance.org/news/sarcoma-awareness-month/