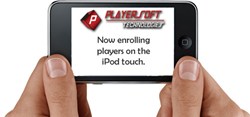 Playersoft's suite of products work with any casino gaming system, giving operators intuitive tools to track guests play and enhance their experience.
San Diego, CA (PRWEB) July 31, 2013
Playersoft Technologies announces its suite of products which continue to gain momentum with gaming operators due to its intuitive suite of products designed for seamless integration with any casino operations system currently on the market. These products not only allow properties of any size to manage player tracking with intuitive, easy to ease interfaces, but provide each the ability to create better customer relations.
"When our Mobile Enrollment product won Gaming and Leisure's Platinum award in 2012, that started to created a whole new level of awareness for the company," says Playersoft President, Tony de Leon. "We're very pleased by the level of integration we've been able to achieve with each of our products and our clients are taking notice as they have been coming back for the next module in our suite." Playersoft began the release of its products as a "soft opening", but the interest from new clients allows the company to present the full package this month and in time for September's G2E Conference in Las Vegas.
While Mobile Enrollment focuses on main stream player enrollment and tracking from anywhere on the casino floor, Group Tracker's launch in early 2013 gave operators the ability to use the same iPod Touch technology with a focus on managing players at the group level. Group Tracker provides a single place to create, manage and see at a glance what groups are profitable, identifying the value of your individual groups and group guests.
Playersoft's TouchPoint Kiosk system takes individual player integration to a personal level by allowing enrolled players to track their own account through self-service kiosks located throughout a property. "For players who are comfortable with self-service kiosks and desire to manage their accounts, TouchPoint Kiosk system helps players stay on the go while giving the casino the ability to manage promotions from the back end through redeployment of promotions and even creating special messages for guests," says de Leon. "It is another way for operators to positively impact customer service and staff productivity."
The intuitive suite of Playersoft's products is rounded out with its Host Player Management tool. "This tool really makes use of all the information the casino receives from players and allows hosts to truly tailor marketing efforts to each level of player," says de Leon. Host Player Management allows customization of invites based on player preferences, tracks effectiveness and redemption levels of campaigns and helps hosts keep track of guest interaction.
"We've been casino operators ourselves," says de Leon. "Whether we're talking to Las Vegas resorts or Native American gaming operations, we know the importance of tracking and managing players in the fast paced casino entertainment industry. Operators need high data accuracy on the back end and intuitive platforms on the front in for staff productivity. Our systems allow for real time evaluation and that interprets into better customer service and profitability for gaming operators of every size."
Advances in mobile technology make mobile sign up, tracking and campaign development possible and affordable. For casino operators, The Playersoft suite of products can have an immediate effect on increasing revenue and reducing expenses.
A demonstration of Playersoft's suite of products can be seen during the G2E Conference at the Sands Expo & Convention Center in Las Vegas, September 24-26, Booth 4117.