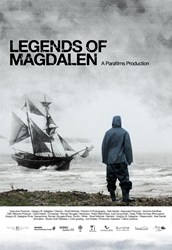 Montreal, Quebec (PRWEB) July 31, 2013
"Legends of Magdalen" explores the shipwrecks and treasures of Québec's Magdalen Islands. The one-hour documentary is led by Leonard Clark, a local fisherman, farmer and self-taught archeologist, who has studied hundreds of sunken ships around the Islands.
On Friday, August 2nd, the world premiere takes place in Old Harry Church, a Québec cultural heritage site built from a shipwreck's timber (Kwango, 1915).
The Canadian TV premiere is August 3rd at 7:00 PM on CBC's "Absolutely Québec." The film will be available on the CBC website after broadcast.
The Documentary Channel (Canada) will also air "Legends of Magdalen" on November 19th at 8:00 PM. A French-language version will be released later this year, along with an interactive website.
The film boasts Gregory B. Gallagher as Executive Producer, Sharif Mirshak as Director, Noé Sardet as Director of Photography, animations by Sindre Ulvik Péladeau, and original music by composer Romain Strugala. Film participants include Mario Cyr, an internationally renowned underwater filmmaker, Marc-André Bernier, Chief of Underwater Services at Parks Canada and Moira McCaffrey, Executive Director Canadian Art Museum Directors' Organization.
"Legends of Magdalen" is a winner of the Quebec Anglophone Heritage Network's StoryNet Documentary Film Challenge, as well as the Rogers Documentary Film Fund Grant.
Parafilms is a spore of creativity headed by Sharif Mirshak and Noé Sardet. Working with an eclectic network of artists, producers and storytellers, the two partners specialize in documentary films, but also produce an array of artistic and commercial projects. Collaborations include: TED, The French National Center for Scientific Research (CNRS), Jean-Michel Cousteau's Ocean Futures Society, Nomad Industries, and Tourisme Québec. Parafilms is best known for the documentary "Plankton Chronicles".
Gregory B. Gallagher creates award-winning content for entities worldwide such as National Geographic Society, Smithsonian Institute, Virgin Airlines, Jane Goodall Institute, Royal Canadian Geographical Society, and many others. He is currently partnered with Jean-Michel Cousteau and Ocean Futures Society, to produce the transmedia version of his successful "Ambassadors of the Environment" children's program.
Source:
PARAFILMS
Gregory B. Gallagher
Executive-Producer
129 Van Horne
Montréal, Canada
H2T 2J2
Telephone: 514-616-6491
Email: gbgallagher(at)gmail(dot)com