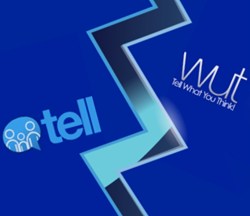 (PRWEB) July 31, 2013
In launching "Tellwut Top Picks", Tellwut took advantage of its online survey software and crowdsourced its online panel, known as Tellwutters to get feedback on which name was best for its Tellwut Tuesday weekly challenge. With over 2,200 votes received in just over 24 hours, "Tellwut Top Picks" was the hands down winner. Over 100 panelists came up with creative names outside the list provided, such as Tellwut Spotlight, Tellwut Tells What and Tellwut's Tellen Tuesdays. Judy Morson, President of Tellwut said: "It's awesome to see the quick turnaround that can be provided by Tellwut's crowdsourcing model, along with the creative ingenuity of our Tellwutters. Just check out the comments our members make on the open surveys posted on our site."
The first Tellwut Top Pick was McDonald's versus Subway. Subway won 58% to McDonald's 35%. Splitting the result along gender lines, women preferred Subway 59% to 34% and men preferred Subway by 53% to 38%. From an age demographic standpoint, percentages were in line with the overall results, until 60+ where 62% preferred Subway to the 30% who preferred McDonalds. In reviewing the comments following the online survey, many panelists referred to the healthiness of the food when choosing their favorite. A recent Business Week article by Susan Berfeild published July 3, 2013 comments on the importance McDonald's has placed on the McWrap as being a seemingly healthier choice because of its fresh vegetables and refers to an internal McDonald's memo which refers to the McWrap as a "Subway buster." McDonald's attempt to focus on the healthfulness of its food seems bang on; however, public opinion at Tellwut shows they have a long way to go to catch-up to busting "Subway." All that being said, healthy or not, McDonald's remains the biggest restaurant chain in the world.
Tellwut Top Picks is proving to be fun and entertaining and shows the speed in collection of quick results for quick decisions or understanding opinion sentiment. Tellwut surveys assist with collecting feedback from direct stakeholders, planning events, and understanding general opinion. People, organizations and businesses are able to meet their crowdsourcing and online market research needs including access to demographic information which allows for deeper analysis. Tellwut provides an interactive platform with features such as logo, image and video embedding, customized welcome and exit messages, as well as exit links that organizations can utilize to promote their products, social media platforms or direct voters to website landing pages. Tellwut Top Picks every Tuesday will highlight these instant crowdsourcing opportunities. Check out this week's results for Tellwut's Top Pick on Android versus Apple.
About Tellwut®.
Tellwut is a North American online community of individuals dedicated to expressing their opinions through online surveys based upon a wide variety of topics in exchange for rewards and the Tellwut community experience. The Tellwut community and proprietary survey and reward software application provide a platform for organizations to send surveys to their stakeholders or to crowdsource and conduct online market research through the use of the Tellwut survey platform and the Tellwut Community; thus allowing businesses a clearer understanding and insight into their products or services, customer attitudes and potential business opportunities.