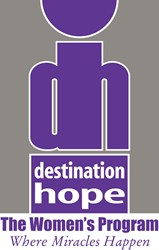 40 percent of overdose deaths are actually women.
Fort Lauderdale, Florida (PRWEB) July 31, 2013
Destination Hope: The Women's Program, a nationally recognized gender specific substance abuse treatment, alcohol and drug rehab for women facility in Fort Lauderdale, Florida, responds to shocking new data illustrating a dangerous trend in female drug abuse. Formerly seen as primarily a 'male problem,' substance abuse in women cannot be ignored.
In July 2013, the Centers for Disease Control (CDC) released findings that show a dramatic increase in the number of overdose deaths among women. Between 1999 and 2010, the number of women who died from overdosing on prescription painkillers increased to five times its previous number. The sharpest rise was seen among middle-aged women.
"This was formerly seen as men's territory," said Ben Brafman, founder and CEO of Destination Hope: The Women's Program, an expert in drug rehab for women. "For many years addiction and especially overdose deaths have been seen as a male problem, but now we see that 40 percent of overdose deaths are actually women. This calls for a stronger focus on women and drug abuse, both in research and treatment programs."
Destination Hope: The Women's Program is raising awareness by highlighting this issue on their weekly blog posts and social media accounts. By providing the facts, they are stepping up the fight against prescription drug abuse in women. Many women are not aware of the dangerous side effects that go along with increasingly prescribed drugs like Oxycontin, Vicodin, and Opana.
"We are sharing this information as often as possible," said Brafman, a leading authority on substance abuse and addiction programs for women. "Women need to know that they are at risk of developing an addiction to prescription drugs, and that these drugs do not affect them in the same way that men are affected."
Why the sharp spike in drug overdose deaths among women? Studies show that women are more likely to experience chronic pain than men, and therefore are more likely to receive higher doses of prescription drugs. As a consequence, they are more likely than men to take painkillers for a longer period of time. Although the amount of drugs being prescribed is rising, there is no similar increase in reported pain among Americans.
"We're prescribing more drugs without an adequate look at how women are affected," said Brafman. "These alarming new statistics from the CDC indicate that we need to step back and re-evaluate the situation before things get worse."
###
Destination Hope: The Women's Program is a full service addiction, drug, alcohol and dual diagnosis drug rehab for women treatment facility in Florida for women suffering from substance abuse and mental health issues. Treatment programs include: drug rehab, alcohol rehab, outpatient rehab, dual diagnosis therapy, family therapy programs, prescription drug rehab aftercare and women's health programs to treat depression, anxiety and eating disorders. Destination Hope: The Women's Program and its partner program, Destination Hope, provide gender specific therapy in an intimate treatment environment. For more information on the center or substance abuse and addiction treatment, please go to http://www.womensdrugrehab.com.