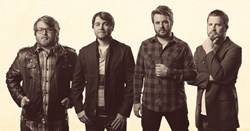 "The Pretus brothers' vocals sound amazing against the backdrop of a really muscular band now," said Better than Ezra's Tom Drummond.
New Orleans, LA (PRWEB) July 31, 2013
The Breton Sound is celebrating a whirlwind of a year by pressing their latest EP "Maps" to vinyl, with just 300 copies to be made available. This limited edition vinyl includes five boldly diverse songs along with a free digital download.
Over the past few months, rising New Orleans band The Breton Sound have defied trends by firmly planting themselves in the territory of rock with their pounding rhythms, soaring harmonies and slamming drums. "Maps" was originally released on cd prior to their New Orleans Jazz and Heritage Festival debut performance in May.
Since then, The Breton Sound hosted Rock 'n' Hops, a benefit concert for MusicCares at NOLA Brewing, played Milkwaukee's Summerfest, and toured across the country to promote their new music.
The band is ready to bring their sound back home to the south. They will be heading to Houston and Dallas to open for native New Orleans' alternative rock band Better Than Ezra. This is a momentous occasion because Better Than Ezra's bassist, Tom Drummond, produced "Maps," in addition to the band's first EP "Eudaemonia."
The Breton members have played in a variety of bands around New Orleans for years ranging from punk rock to progressive instrumental. However it wasn't until early 2012 that original members, guitarist Stephen Turner and lead singer Jonathan Pretus, solidified the band into the current foursome with the addition of Jonathan's brother Brian Pretus on bass and long-time friend and drummer Jonathan Alcon. Recently deemed one of the "12 Louisiana Bands You Should Listen To" by Paste Magazine, the brave collaboration has paid off in big ways.
"It's been cool to watch these guys grow from the last EP we made to this one. The song writing has matured; the instrumentation is tight. The Pretus brothers' vocals sound amazing against the backdrop of a really muscular band now," said Drummond.
The Breton Sound will also play alongside a variety of other talented New Orleans artists and national acts including Pearl Jam and Nine Inch Nails at New Orleans' VooDoo Music + Arts Experience on November 2.
Catch The Breton Sound this Saturday at New Orleans' own renowned music venue Tipitina's as the boys play their first show back in their hometown. For more information on The Breton Sound and their upcoming tour dates, please visit http://www.thebretonsound.com or follow them on Facebook, Twitter or Instagram.