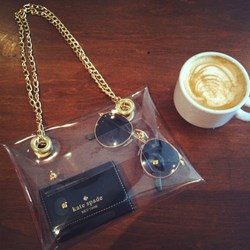 "I am fortunate to work with some truly talented people, and the influx of creative, ambitious individuals in New Orleans right now is truly inspiring," said Tiffany Napper, founder of Bats on Tees and Bats on Strings.
New Orleans, LA (PRWEB) July 31, 2013
Tiffany Napper, founder of boutique New Orleans based public relations firm Bats on Strings, is pleased to announce the launch of Bats on Tees, an online clothing and accessories marketplace inspired by and dually created with the artistic locals on her client roster and beyond.
"When meeting with clients and friends, we would often daydream of things we could create together," says Napper. "What began as a fantasy eventually seemed silly not to pursue. I am fortunate to work with some truly talented people, and the influx of creative, ambitious individuals in New Orleans right now is truly inspiring."
The Bats on Tees' debut product, "Totally Milkshakes," was the result of a creative collaboration with Megan Victoria, the locally recognized jeweler behind Jupiter Lala. A bit tongue in cheek, the canvas tote bag features a quote inspired by a song and a drawing by Megan and is dipped in a strawberry and beet dye. The partnership with Megan Victoria will continue with the upcoming release of hand drawn "Winged Creatures" tanks and "Made With Magic" T-shirts in August. The "Cajun Stardust" top, an ode to Louisiana, will feature hand drawn and embroidered accents and will be released in September. The growing Bats on Tees collection will range in price from $38 - $160 and is online at http://www.batsontees.com.
Another product set for debut next week is the "Clear as Day" collection, an assortment of stylish clear purses. Inspired by the NFL's new regulation of permissible purses allowed in football games for the upcoming 2013 season, Napper and New Orleans film director John LaTier have developed two styles of clear bags. Five varieties of fabric wallets that also meet the NFL size restrictions will be sold with the "Clear as Day" bags, which will be released on August 9, just in time for the New Orleans Saints first pre-season game against the Kansas City Chiefs.
Bats on Strings specializes in promotion and production efforts for music, film and creative arts. Branching out into product collaboration with the creative minds from Napper's roster and network was a natural progression.
"I am so grateful to Megan Victoria and John LaTier, both clients and friends and my first collaborators. I couldn't do this alone, and I am beyond excited about the ideas we have up our sleeves and the collaborations to come."
Carefully crafted, Bats on Tees merchandise truly reflects the personality of each artist involved in the collaboration. Some goods will be a straightforward representation, such as an overnight bag featuring an artist's painting, while others will be more whimsical, with hand drawings paired with fresh quotes.
Napper puts great pride in supporting local talent as much as possible. From working with New Orleans seamstresses and printers to creating dye from locally grown strawberries, the city of New Orleans is involved through and through, from inspiration to design and finally to production. The entire collection of goods is an ode to the south with a nod to magical times.
For more information on Bats on Tees and all of the upcoming endeavors and products, visit http://www.batsontees.com or follow along on Facebook or Twitter.