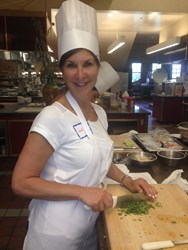 Cooking at The Culinary Institute of America!
San Diego, CA (PRWEB) July 31, 2013
Chef Jodi Abel, owner and founder of Lajollacooks4u, unique and intimate cooking classes for couples and corporate team-building, recently participated in classes at the renowned Culinary Institute of America in St. Helena, CA.
Chef Jodi honed her skills on how to blend and meld The Flavors of Asia. The four-hour course was broken into four menus with a team assigned to each menu. Vietnamese Spring Rolls were first up, followed by Spicy Thai Chicken and Coconut Soup, Korean Lettuce Wraps with various dipping sauces and chutneys. The recipes originated from Thailand, Vietnam and Cambodia.
During her three-day visit to Northern California, Chef Jodi also visited the stunning Sequoia Grove Winery were she had a two-hour private wine and food-pairing seminar. "The winery's sommelier was well educated and the time flew by," said Chef Jodi who added that the 2009 Rutherford Reserve Cabernet Sauvignon was her favorite wine.
Chef Jodi also visited the Frog's Leap Winery in the area and loved the 2011 Zinfandel that was subsequently paired with some of her beef and chicken dishes at Lajollacooks4u. Chef Jodi concluded her wine tour at Gabrielle Collection enjoying a fabulous wine and cheese pairing in the facility's lovely garden.
"My visit was so educational and informative and I have already paired my menus with some of the delicious wines I had during my visit to Napa," Chef Jodi said. "It is so important as a chef to keep learning and expand one's knowledge of wine pairings and what's current in the food world in order to teach them to our clients; there's always something for everyone to learn," Chef Jodi said.
Lajollacooks4u, founded in 2008, provides unique, hands-on and intimate cooking classes for couples, corporate team-building, and any foodie looking for a cooking and culinary experience in an ideal setting overlooking the Pacific Ocean. Based in La Jolla, a suburb of San Diego, CA, Lajollacooks4u has enjoyed record growth since its inception and is ranked as a top attraction in La Jolla on the world's largest travel review site, Trip Advisor. For more information, contact Jodi Abel at jodi(at)lajollacooks4u(dot)com or phone 1-858-752-4980.