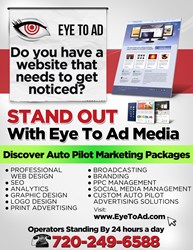 A podcast may be a great way to market to tech savvy consumers!
Denver, CO (PRWEB) July 31, 2013
A marketing company with global reach, Eye To Ad Media announces they will now be offering an internet advertising suite that's promoted through a large network of online podcasting radio stations. According to the company, customers will have the option to select desired demographics that are targeted through the radio marketing campaigns.
Podcasting may be the future of radio. It's easy to find a great podcast on several of the most popular websites. In a world that's advancing technologically at an incredibly rapid rate, consumers are seeking products and media that are convenient and conform to their particular lifestyle. Products that are there for them, how and when they want it.
Delivering effective advertising can be a challenge. There's no exact science to successful promotion, as the different forms of media change at a rapid pace. Consumer interests can also change rapidly, further helping determine what works; when it comes to successful conversions. Podcasting is a unique alternative to traditional radio ads. In addition, podcast listeners might be more tech savvy and a great demographic match for companies in high tech industries.
This creative Denver SEO company offers a wide variety of marketing services that range from professional advanced web development, white hat search engine optimization, back linking, graphic design, copywriting, flyer design, keyword research, video production and a host of other strategic business development services. This unique ad agency strives to help their customers differentiate their business and help develop a marketing strategy that's conducive to conversions and affordability.
Realizing a profit is one of the things that makes owning a company worth all of the hard work. Unfortunately a profit comes easier for some businesses than for others. Many times these struggles are attributed to lack of capitalization. Lack of capital can make it difficult to advertise. It is a vicious cycle that can be hard to break. The statistics speak for themselves, the majority of businesses that start today will ultimately fail within the first five years.
Failure's not an option. Having a positive perspective can potentially help increase sales. Successful marketing may be a somewhat simple recipe. Deliver, measure and analyze. Once a campaign has been launched it is essential to measure the volume of leads generated per the number of dollars invested. Different forms of media can pay off for years, but sometimes it's difficult to accurately track all advertising ROI. It can potentially be beneficial for businesses to have diversified campaigns that are targeted toward their ideal client's specific demographic.
According to the company, potential customers can receive an initial consultation at no cost. An Eye To Ad representative can assist business owners in prioritizing and simplifying their marketing efforts. The company also is an independent agency with national broadcasting capabilities and can offer clients deep discounts on cable TV commercial air time.
Contact Information:
Zach Wennstedt
info(at)EyeToAd(dot)com
720-249-6588
http://www.eyetoad.com