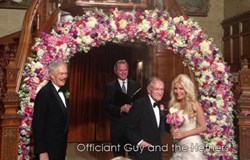 I sure wish I held the title of Playboy Wedding Officiant. It would be fun to hang out there quite a bit. Hef is a really great guy, and everyone there is so warm and friendly.
Los Angeles, CA (PRWEB) July 31, 2013
On June 26, 2013, the day that the United States Supreme Court decision on Prop 8 allowing same-sex marriage to continue in California, Officiant Guy received a call from the TV and radio show to do a mock sexy lesbian wedding the next morning. He "married" two women clad in sexy lingerie for the fun of the Playboy crowd.
Little did they all know that the next day after the filming of that episode, the Ninth Circuit Court of Appeals would lift its stay on gay marriage and immediately thereafter Governor Jerry Brown would order that gay weddings would be allowed to take place in California. Since that time Robinson has been busy helping LGBT weddings in Los Angeles happen.
Robinson is no stranger to Playboy. Most people remember the New Year's Day news this year announcing that Hugh Hefner had married his lovely bride, Crystal Harris, the night before. The photo that was released was of a smiling couple just married with Hefner's brother, Keith, to his right. But who was the good-looking man smiling behind them?
A familiar face on the Playboy mansion grounds, Chris Robinson is known as the Officiant Guy, a wedding officiant in Los Angeles who had been to the mansion just two months before to be the wedding minster for a wedding of Keith Hefner to his young bride, Caya Ukkas. This casual and private wedding warranted a page in Playboy magazine.
So, is Robinson the official Playboy Wedding Officiant? "I wish I held that title," he exclaims, "it would be fun to hang out at the mansion quite a bit more. Hef is a really great guy, and everyone there is so warm and friendly." But maybe that title is unknown only to Robinson as he also married Hefner's ex-girlfriend, Kendra Wilkinson to Hank Baskett on the Playboy grounds in a televised wedding ceremony on the show titled, "Kendra".
But that's not the first time he met Hefner. Robinson met Hef when he was the wedding officiant for Scott Baio and Renee Sloan on Baio's VH1 TV show, "Scott Baio is 46 and Pregnant." "I almost signed a contract with Scott Baio to star in my own reality show, but alas, my wife and I opted against the show because our kids were too young to expose them to that type of publicity," Robinson explains.
No wonder Robinson almost had his own TV show as he has many stories to tell about many LA weddings, and Baio was fascinated. Having been a wedding officiant for many years he is no stranger to celebrity weddings in Los Angeles and has been on countless TV shows from the popular "Bridezillas" to "The Ricki Lake Show" to "Divorce Court" and many more; so many TV shows, in fact, that he was on several shows in one month and can't recall one of the shows. Maybe he'll see himself in reruns. Asked to list the celebrities he has married or issued a marriage license to he declines, "Unless they publicize it themselves, I am not at liberty to talk about it." His lawyer mentality prevails.
When asked why he is so popular with media and celebrities, he has a modest attitude considering his movie-star looks and his polished manner. "I'm not really sure, but it may have something to do with the fact that I'm an attorney and there is more of a trust factor involved in that. I know that I don't screw up the paperwork, and that happens all too often with many wedding ministers." Asked about his own celebrity, he laughs, "I do get stopped sometimes and often at a wedding, a guest will ask for my autograph. It's all very funny. My mom gets a kick out of it."
Up next for Robinson is a televised celebrity wedding airing in just a couple of weeks. This wedding officiant sure knows how to book 'em.
About Chris Robinson
Chris Robinson is Officiant Guy, a lawyer, a wedding officiant and a specialized notary public who is authorized to issue LA County marriage licenses. He has officiated thousands of wedding ceremonies throughout Southern California. A wedding video of his services can be found on YouTube. He can be found at OfficiantGuy.com