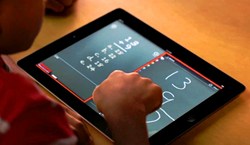 I couldn't contemplate doing without the iPad during the summer holidays as the iPad provides a good option for outside school learning
London, Greater London, Home Counties (PRWEB UK) 31 July 2013
Almost from the day the iPad was launched there was an immediate buzz about the educational apps that were available in the iPad app store. The iPad allows children to really engage with learning resources as never before.
When the unexpected happens and the glass on the iPad breaks one company is surpassing all the others for service, iPad Repair London has already come to the rescue of dozens of parents in the capital this summer. Julie Stevens says, "My son cracked the iPad2 glass by kneeling on it, so much so that some fragments come away when you touch the screen. I couldn't contemplate doing without the iPad during the summer holidays as the iPad provides a good option for outside school learning. I looked on Google and found iPad Repair London. They sent a courier to pick up the iPad from my home, got it sent to their work shop to get it repaired and then couriered to return the iPad to me at home. Their efficient service really came to the rescue for me and my son this summer."
Ryan Newman, the Customer Service Manager at iPad Repair London, states that "we have really been working hard bringing the customer experience into every decision we make. This means we listen to understand our customer's needs and go above and beyond to make customers feel important and valued. From the feedback we have been getting I know it's really paying off."
Whether it's the pervasiveness of the iPad or the instinctive appeal of their touch screen interfaces, there's no doubt that touchscreen technology is changing the way that children gather and organize information. The iPad has the potential to revolutionize the way that children learn and iPad Repair London is here to ensure that a broken iPad does not disrupt your child's learning.
To find out more visit http://www.ipadrepairlondon.org.uk or call 0207 100 1212.