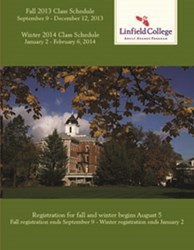 Linfield provides many amenities to ADP students that are especially notable for programs offering accredited online degrees.
McMinnville, OR (PRWEB) July 31, 2013
Linfield College announces the August 5th opening of registration for Adult Degree Students who wish to begin or continue their program in Linfield's Fall Semester. The first day of class is September 9. This fall, the ADP offers adult learners over seventy online courses in a variety of subjects.
Linfield's ADP provides accredited bachelor's degrees entirely online in Accounting, Business Information Business, International Business, Management, Marketing, and RN to BSN. In addition, the ADP provides an online Post Baccalaureate Accounting Certificate, a Computer Information Certificate, a Human Resource Management Certificate and a Marketing Certificate.
The ADP provides a high degree of flexibility and personalization to students. Internet access and a web browser are all students need to have their own personal classrooms. The coursework can be accessed from wherever students live. ADP students benefit from plentiful communication with classmates and instructors any time of day, any day of the week.
The ADP is designed to serve adult learners returning to school to finish their bachelor's degrees. The ADP participates in national programs to aid adult learners. Financial aid is available to all admitted eligible students. It is approved by the VA to accept benefits for veterans completing their degrees. In addition, the ADP is on the Oregon Eligible Training Provider List for the Trade Adjustment Assistance Act, which provides aid for reemployment education to Americans whose careers have been negatively impacted by international trade.
Linfield provides many amenities to ADP students that are especially notable for programs offering accredited online degrees. Linfield offers several scholarships for adult learners, as well as regular workshops on how to effectively apply to such scholarships. In terms of transfer of credits, Linfield accepts credits from other regionally accredited colleges and universities, so students can count previous coursework towards their degrees. In addition, the ADP helps students earn credits for prior learning they achieved outside of school, such as experiences gained from their careers or through travel, homemaking, or volunteering.
Students in the ADP benefit from the same high level of support that residential students enjoy. Every student is assigned an academic advisor to help them achieve their academic goals, secure their degrees, and progress in their careers. Linfield library resources are fully accessible for ADP students to perform research and locate materials, and Linfield provides a dedicated Distance Learning Librarian to aid ADP students' library needs. In addition, students can access personalized online tutoring for accounting, writing, statistics, and other coursework. New students will benefit from the Tutorial for Online Students, which helps students acclimate to online learning. These free tutorial sessions will be on the McMinnville campus in the Renshaw 211 Computer Lab Saturday, September 7, 11:00am - 1:00pm, and on the Portland campus in Peterson 108, Monday, September 9, 6:30pm - 8:00pm. Students are welcome to participate in the McMinnville campus tutorial via WebEx online meeting. Students should email dce(at)linfield(dot)edu with the date of attendance, if participating by WebEx.
Linfield's exceptional resources and student-focused attention make its online degrees a realistic goal for many new students who will be registering for classes August 5th.
About Linfield College Adult Degree Program
Chartered in 1858, Linfield College is one of the first colleges in the Pacific Northwest and is regionally accredited by the Northwest Commission on Colleges and Universities. The Adult Degree Program offers adults the opportunity to earn a bachelor's degree or certificate in eleven fields of study.
Online programs offered by Linfield College Adult Degree Program include an online management degree, business information systems degree, accounting degree, online marketing degree, arts and humanities degree, RN to BSN degree and international business degree and certificates in accounting, human resource management, computer information systems, and marketing.