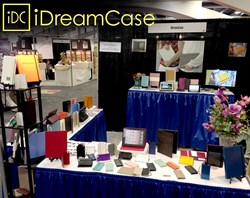 The new iPhone5 Stand Case was one of our most popular sellers. As new customers and retail buyers picked up our products—truly experiencing craftsmanship you can touch—I was so proud to be part of the event. - Gabi Hanoun, iDreamCase, Founder/CEO
San Francisco, CA (PRWEB) July 31, 2013
Award winning tablet case maker, iDreamCase showcased their newest addition to the product line at the International Gift Fair at Moscone Center. The iPhone5 Stand Case includes summer-inspired color options like Aqua Blue, Sunset Orange, Natural Brown, Pistachio Blue or Metallic Blue.
"The Gift Fair was full of so many interesting products this year," said master bookbinder Gabi Hanoun, who is iDreamCase's founder and CEO. "The new iPhone5 Stand Case was one of our most popular sellers. As new customers and retail buyers picked up our products—truly experiencing craftsmanship you can touch—I was so proud to be part of the event."
In addition to the dynamic color palette, the new iPhone5 Stand Case has a secure elastic band, and the sturdy stand makes promotes comfortable viewing while the device is tilted. The Stand Case is both practical and stylish, allowing users to maximize the devices capabilities.
iDreamCase's booth at the Gift Fair also showcased new colors, fabrics and styles for iPad, iPad mini, Nexus7 and Kindle Fire HD. Offering quality, protective cases for nearly every tablet technology on the market has set iDreamCase apart from its competitors.
About iDreamCase
iDreamCase handcrafts superior quality, truly handmade products using only the finest materials. Guided by our strong commitment to handmade artisanship, iDreamCase designs and creates luxuriously protective handmade iPad® cases, iPad mini® cases, Nexus 7® cases, Kindle Fire HD® cases and iPhone® 4/4S/5 cases and sleeves. Made from elegant fabrics imported from Italy and exclusive genuine leather, iDreamCase products offer a superior design aesthetic, provide sophisticated style and protection, and reflect centuries-old, unmatched handmade craftsmanship. Master bookbinder Gabi Hanoun artfully weaves over 30 years experience into each handmade tablet case and sleeve and smart phone sleeve, truly revolutionary products in handcrafted artistry. http://idreamcase.com.
About Cardoza-James Binding
Cardoza-James Binding provides quality products and the best bookbinding services. For all entities, from professional services firms and printing companies to independent photographers, our handcrafted binding services showcase materials with superior presentation. Cardoza-James binds books, creative works, and other specialty products in a classic and traditional way to fit custom specifications. Hallmarks of our dedication to quality and excellence include winning the Gold Award from Printing Industries of Northern California (PINC) over past 10 years and the Gold Award from San Francisco Gallery over last 5 years.
Contact:
iDreamCase
support(at)idreamcase(dot)com
Written by Laura Frank