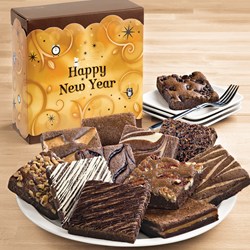 Phoenix, Arizona (PRWEB) July 31, 2013
Fairytale Brownies will introduce two new gift bands in September to help customers spread cheer and ring in the new year in style.
The fall and winter months are a very busy time of year. Fairytale Brownies' new Celebrate the Season gift band reveres winter with swirly trees and snow-covered plains. Most of nature slumbers during this barren season, but in Fairytale's world, a few birds find a hint of peace and hope in the forest as the snow drifts down.
The Celebrate the Season gift band can be wrapped on all of Fairytale classic gift boxes. A smaller version fits on Fairytale's purple treasure boxes.
Begin 2014 by sending Happy New Year wishes wrapped in shades of gold. Fairytale's night owl is dressed in his finest and ready to ring in the year as he sits in the cacao forest on this festive new gift band.
The Happy New Year band also fits on all classic brown box sizes and the purple treasure boxes.
Fairytale Brownies specializes in in custom designed gift packaging and offers 20 special occasion gift bands including Merry Christmas and Happy Holidays.
The new Celebrate the Season and Happy New Year gift bands will be available for purchase Sept. 1.
ABOUT FAIRYTALE BROWNIES: The company has been baking brownies since 1992. Every batch is made by hand using a secret family recipe. The brownies, cookies and bars are all natural, baked with the finest ingredients such as imported Belgian dark chocolate, farm fresh eggs, pure creamery butter, and dark brown sugar. Each brownie, cookie and bar is individually wrapped and certified kosher dairy.