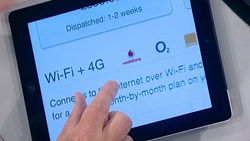 Will their iPad with Retina display work with the imminent 4G rollouts?
United Kingdom, England, London (PRWEB UK) 31 July 2013
The question that many customers are asking is "will their iPad with Retina display work with the imminent 4G rollouts?" (EE 4G service is already available). For anybody who doesn't know 4G is an umbrella term for the next generation of mobile internet services.
This latest retina-powered iPad gets 4G in the UK, but only on EE's network, which uses the 1,800MHz spectrum band. The likes of O2 and Vodafone and Three may offer a specially tweaked version of the iPad when they get their 4G services up and running, but that's very much up in the air right now. This is because different nations operate on different spectrum bands.
As current users will testify this doesn't mean the UK's iPad users experience will be sub-par. The iPad's supports the fastest 3G and 3.5G networks used in the UK, 3G is still very, very fast in the UK. We are still getting real-world speeds on par with what is termed 4G elsewhere in the world. The new iPad will be fast in the UK, and the networks seem hell bent on making sure of that.
At iPad Screen Repair Phillipe states "when we repair your screen we also test to make sure that mobile internet services are also working, we will require your sim card to do this". In general if the sim has not been connected for a significant length of time re-establishing a connection can be a complicated process including changing the settings for the network provider. The iPad has revolutionized the way we work and play and at iPad Screen Repair they believe in providing mobility to their customers by providing a world class repair service.
To find out more visit http://www.ipadscreenrepair.org.uk or call 0207 100 1212.