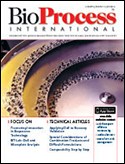 New York, NY (PRWEB) July 31, 2013
BioProcess International (BPI) announces the publication of the most recent issue of BioProcess International online and in the App Store for iPad and iPhone.
The latest issue features the following articles:

Keeping New Technologies Coming: Suppliers Face Challenges in Introducing New Products When Change Is Unwelcome
Microscale Analysis and DoE: Putting Microplates and Microplate Readers to (More Efficient) Work
Drug Products for Biological Medicines: Novel Delivery Devices, Challenging Formulations and Combination Products, Part 2
Comparability Protocols for Biotechnological Products: A Five-Step Methodology
Biological Assay Qualification Using Design of Experiments
A Salt-Tolerant Anion-Exchange Chromatography Sorbent for Flexible Process Development
Biologics Have a Robust Pipeline, According to Latest PhRMA Report
Also available is a special supplement on Biosimilars for the Real World, featuring the following articles:
Profitability in the Biosimilars Market: Can You Translate Scientific Excellence into a Healthy Commercial Return?
An Analysis of the US Biosimilars Development Pipeline and Likely Market Evolution
In Vitro Functional Testing Methods for Monoclonal Antibody Biosimilars
Biosimilars, Oxidative Damage, and Unwanted Immunogenicity: A Review
Increasing Purity and Yield in Biosimilar Production: Taking Protein Purification to the Next Level
Concerns, Collaboration, and Capacity: A Biosimilars Roundtable at the 2013 BIO International Convention
Exclusive online-only content:
Ask-the-Expert — "Offshore Outsourcing: Who's Going Where, and Why?"
A talk with Eric Langer (president and managing partner of BioPlan Associates) about the current state of offshore outsourcing.

Best of BPI Revisted — "Sailing Through Pharmaceutical Risk Management"
Joseph Noferi and Ralph Dillon (directors at Compliance Surety Associates) take a look back at their two-part article on pharmaceutical risk management.

Author Insights — Article introductions and insights recorded by the authors of each article offer additional insights to help readers gain the most from each topic.
View monthly issues and supplements and access BPI Extra online-only content at: http://bit.ly/13huIrk
Download the mobile app by searching the app store for "BioProcess International" or visiting http://bit.ly/1aTmoQf
Request your own subscription to the print journal at http://bit.ly/11qnakH
About BioProcess International
BioProcess International™ (http://www.bioprocessintl.com) is a monthly, controlled-circulation magazine devoted to the development, scale-up, and manufacture of biotherapeutics and biodiagnostics. Each issue provides the global industrial biotherapeutic community with up-to-date, peer-reviewed information detailing the business, politics, ethics, applications, products, and services required to successfully drive biopharmaceuticals, vaccines, and biodiagnostics through the development and manufacturing process.
BioProcess International™ is part of the IBC Life Sciences Division of Informa, plc, a leading international provider of specialist information and services for the academic, professional and business communities. Informa offers a world-class portfolio of publications, events and data services for researchers, students, lecturers and professionals in the academic and scientific communities worldwide.